SACRAMENTO, Calif. (Ammoland.Com) – What do you do when it is hard to chew? Scott Leysath, The Sporting Chef, shows viewers what to do with those tougher cuts of wild game on this week's The Sporting Chef TV show presented by Camp Chef. Armed with a slow cooker and a tenderizer, nothing can stop Leysath from turning tough to tender. Tune in to The Sporting Chef exclusively on Sportsman Channel on Sundays at 12:30 p.m. ET with additional airtimes of Mondays at 4 p.m., Wednesdays at 9 a.m. and Saturdays at 6:30 a.m. ET.
"One of my favorite ways to cook tougher cuts of meat is with my Weston Brands slow cooker," explained Leysath. "You will need time, temperature and moisture to break tougher cuts down to tender bites, but it is so worth it."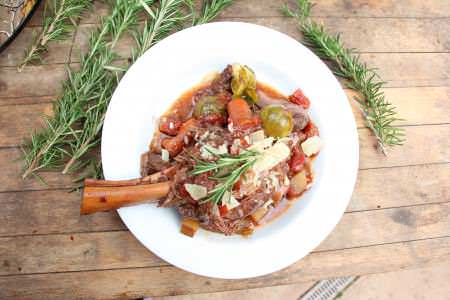 Also, Field & Stream's resident wild game blogger, David Draper, makes a venison ground meat skewer; Stacy Harris shows her quick and easy venison fajitas; Shayna Bane of Weston Brands explains how to make homemade pasta and kielbasa and Cee Dub satisfies the sweet tooth in camp with his maple bars.
The Sporting Chef features a talented cast of chefs and outdoor experts who share decades of experience in the woods, on the water and in the kitchen. To learn more about what's on the grill this season, visit, http://www.thesportsmanchannel.com/shows/the-sporting-chef/
The Sporting Chef, hosted by Scott Leysath, leans on Leysath's 25-year career as a fish and game chef, along with some of the outdoor industry's most-talented and innovative experts on the topics of fish and game preparation, outdoor cooking, camping, harvested game handling and storage. The show offers outdoor programming in a fast-paced magazine format covering a variety of topics from stuffing quail with rabbit-rattlesnake sausage to local game feeds to finding out whether farmed salmon is a good thing for our bodies or the environment.
Learn more about The Sporting Chef at http://TheSportingChef.com and sign up for The Sporting Chef newsletter. Also visit on Facebook at http://facebook.com/TheSportingChef and Instagram at http://instagram.com/sportingchef
The post Tough Cuts on This Week's The Sporting Chef on The Sportsman Channel appeared first on AmmoLand.com.