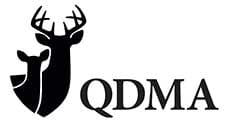 ATHENS, GA – -(Ammoland.com)- Tony Hansen of Michigan received QDMA's 2016 Signpost Communicator of the Year Award at the QDMA 2016 National Convention in Louisville, Kentucky. Hansen is a freelance writer for Outdoor Life, founder of the Antler Geeks blog, and Digital Content Director for Realtree.com.
"QDMA presents this award annually to an outdoor communicator who shares accurate information with deer hunters, works to ensure a strong future for whitetails, and supports the QDMA and its mission," said Lindsay Thomas Jr., QDMA Director of Communications. "Tony has more than earned a position among our former winners of the Signpost Award."
For more than a decade, Hansen has been a prolific writer with a focus on whitetail hunting. Whether writing for local newspapers in his home state or, now, major publications like Outdoor Life, he has consistently called on QDMA staff members as sources and cited QDMA's Whitetail Report almost every year it has come out.
He's been a guest speaker at QDMA Branch events in his home state of Michigan, and in 2014 he attended, actively participated in, and live-blogged QDMA's Whitetail Summit for both Realtree.com and Outdoor Life. In 2015, on a blog he founded called Antler Geeks, he wrote:
"I desire to see whitetail hunters take their role as managers more seriously, and it should be the outdoor media that leads that charge. The QDMA's Whitetail Report is an ideal example of that."
Hansen himself is an ideal example as well, which became even more clear late last year when the seriousness of the challenges faced by whitetails landed in Hansen's backyard. CWD was discovered just 35 miles from his door. Hansen has been the editor of Michigan Out of Doors magazine, hosted the Midwest Whitetail show in Michigan, and last year was promoted to Digital Content Director at Realtree.com.
QDMA's Signpost Communicator of the Year Award is named after the organization's first newsletter, "The Signpost," a title that refers to the use of signpost communications among whitetails, including rubs and scrapes. Former winners include Will Brantley of Kentucky (2015), Mark Kenyon of Michigan (2014), Scott Bestul of Minnesota (2013), Andy Whitaker of Alabama (2012), Patrick Durkin of Wisconsin (2011), Bob Humphrey of Maine (2010) and C.J. Winand of Maryland (2009).
About QDMA
Founded in 1988, QDMA is a national nonprofit wildlife conservation organization dedicated to ensuring the future of white-tailed deer, wildlife habitat and our hunting heritage. To learn more about QDMA and why it is the future of deer hunting, call 800-209-3337 or visit QDMA.com.
The post Tony Hansen of Michigan Named QDMA's 2016 Signpost Communicator of the Year appeared first on AmmoLand.com.