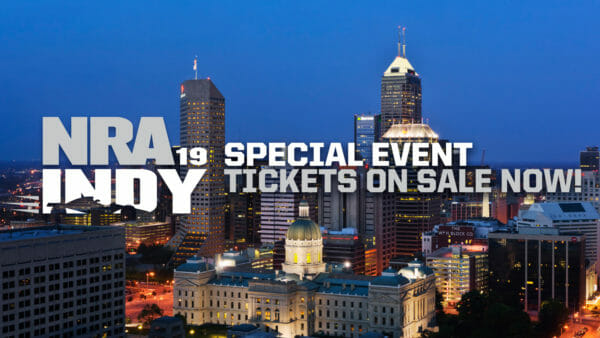 INDIANAPOLIS, Ind. -(AmmoLand.com)- The 148th NRA Annual Meetings & Exhibits, scheduled for April 25-28 in Indianapolis, is just weeks away, and NRA is looking forward to welcoming more than 80,000 Members from across the country to celebrate the Second Amendment!
Every year, the NRA Annual Meetings is the biggest celebration of American gun rights, featuring hundreds of exhibitors showcasing the latest in firearms, outdoor sports, gear and much more, as well as the chance for NRA Members to meet and help shape the future of the organization.
However, NRA Annual Meetings wouldn't be complete without the packed lineup of special events that educate, entertain and enrich the experience at the nation's signature Second Amendment event.
In addition to being able to pre-register to get your badges sent to you, tickets are on sale NOW for the following events at NRAAM! Stay tuned for updates about NRAAM on the official website, and be sure to R.S.V.P. on Facebook and follow along on Twitter!
NRA FOUNDATION BBQ & AUCTION – Thursday, April 25, 5-10 p.m. – Lucas Oil Stadium
Sponsored by Henry Repeating Arms, Kimber and Century Arms | Pre-Event Reception Sponsored by SIG Sauer
Support the Second Amendment, shooting sports and hunting heritage with an evening of food, firearms and fundraising. Help us Teach Freedom by bidding on custom firearms, unique merchandise and specialized hunts. All net proceeds benefit The NRA Foundation, the country's leading charitable organization in support of the shooting sports.
Individual tickets are $85, and table packages are available. Get your tickets now by clicking here!
THE NRA FOUNDATION'S ANNUAL NATIONAL FIREARMS LAW SEMINAR – Friday, April 26, 8:30 a.m.-5:30 p.m. – Hyatt Regency

Organized by the NRA's Office of the General Counsel, the Annual National Firearms Law Seminar is the largest gathering of Second Amendment attorneys in the country! The seminar provides a unique opportunity for attorneys, judges, FFL licensees, and others in the field to network and discuss key legal issues relevant to this expanding area of civil rights law. Attorneys in attendance will earn CLE credit. Get your tickets now by clicking here!
NRA-ILA LEADERSHIP FORUM – Friday, April 26, 12-3 p.m.* – Lucas Oil Stadium
Presented Sponsor: Townhall Media | Bearing Arms, and Sponsored by Henry Repeating Arms
NRA-ILA's annual Leadership Forum is one of the most politically significant and popular events in the country, featuring our nation's top Second Amendment leaders in government, the media, and the entertainment industry. The Forum is also a must-stop for candidates seeking the highest levels of elected office – including governor, congressman, Senator, or President of the United States.
With some of America's biggest names and best political minds on tap, it's no wonder this has become a can't-miss favorite for NRA members. Tickets to this event sell out fast, so you'll want to ensure that you secure your seat for an unforgettable series of motivational and inspirational speeches. Stay tuned to the website for the list of speakers and special guests as they are announced!
Tickets start at just $10, and seating is general admission by section. Click here to buy tickets now!

*Times subject to change 
NRA-ILA DINNER & AUCTION – Friday, April 26, 6-10 p.m. – JW Marriott
Presented by Kimber
The highly anticipated NRA-ILA Dinner & Auction attracts celebrities, industry executives and a host of Second Amendment supporters from around the country. This year's event will feature impressive one-of-a-kind items made and 100 percent donated just for the auction, including engraved firearms, suppressors, knives, fine art, hunts, optics and trips from around the globe.
Individual tickets are $500, and table reservations are available. Reserve your tickets now by emailing awang@nrahq.org!
SATURDAY EVENING CELEBRATION – April 27, 7-10 p.m. – Lucas Oil Stadium
Alan Jackson with Special Guest William Michael Morgan Presented by NRA Country
Presented by Davidson's GalleryofGuns.com 
Celebrate our freedoms and enjoy an amazing night of non-stop country hits. The musical journey will include hits from country legend Alan Jackson such as "A Lot About Livin' (And a Little 'bout Love)", "It's Five O'Clock Somewhere", "Where Were You (When the World Stopped Turning)" and "Chattahoochee", among many others. Opening the show will be one of country music's hottest new talents, William Michael Morgan. His first single, "I Met a Girl" hit #1 on the country radio charts and his style of traditional country music is guaranteed to get people on their feet.
Tickets start at only $29.95, and the show is expected to sell out! Click here to buy tickets now!
NRA COUNTRY JAM – Friday, April 26, 8-10 p.m. – 8 Seconds Saloon
NRA Country is known for delivering great country music entertainment. Join us in Indy for another memorable experience! The NRA Country Jam is back and this year NRA Country has partnered with 8 Seconds Saloon, Indianapolis' GO TO venue and bar for all of the latest country music stars.
Known for bringing some of the best country talent to Indiana, 8 Seconds Saloon and NRA Country present rising country star Jacob Bryant, a Georgia native who delivers a show that combines the storytelling of country music with the passion of rock. He'll be joined by special guest Payton Taylor, who returns to American Idol this year as a Top 40 contender after her rendition of "Angel from Montgomery" on first caught people's attention. It's a show that will not disappoint!
Tickets sales coming soon! Stay tuned here!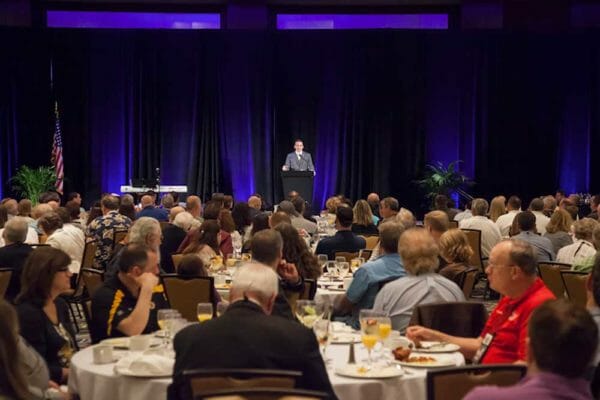 NATIONAL PRAYER BREAKFAST – Sunday, April 28, 7-9 a.m. – JW Marriott
Hosted by Fathers in the Field and Sponsored by Trijicon and Universal Coin and Bullion
More than 1,000 NRA members join together for inspiration and encouragement in Indy! Politician and conservative activist Ken Blackwell is this year's keynote speaker. Former Secretary of State of Ohio and Mayor of Cincinnati, Ken is the Senior Fellow for Human Rights and Constitutional Governance at the Family Research Council and a national bestselling author. Joining him will be actress, writer and Second Amendment activist Susan Howard. She has served as a Commissioner of the Texas Parks and Wildlife Department and will inspire you with her words of freedom, faith and love. Songwriter and author Danny Oertli will be the worship singer.
General admission tickets are only $45. Get your tickets now by clicking here!
6TH ANNUAL WOMEN'S NEW ENERGY BREAKFAST – Sunday, April 28, 9:30-11 a.m. – Indiana Convention Center
Sponsored by Tactica
This women-only gathering offers a unique opportunity to learn about NRA's programs, outreach efforts and mission as relates to women, to discuss current issues such as personal protection, and to meet many female NRA board members, staff and leaders. If you're interested in these topics, new to the NRA family or attending the NRA Annual Meetings & Exhibits for the first time, this is the event for you!
Tickets only $15. Get yours now by clicking here!
13TH ANNUAL WOMEN'S LEADERSHIP FORUM LUNCHEON & AUCTION – Friday, April 26, 9:30 a.m.-1:30 p.m. – JW Marriott
Presented by Davidson's GalleryofGuns.com and Hornady | Platinum Sponsor: Smith & Wesson
Connected by their commitment to freedom, women from all walks of life come together at the NRA Women's Leadership Forum Luncheon & Auction. The Forum is a coalition of philanthropic women united with the mission of infusing new enthusiasm, new excitement, new leaders and new opportunities into the fight for Second Amendment freedoms. Join the Women's Leadership Forum Co-Chairs Susan LaPierre and Janet Nyce for an exciting day of auctions, food and entertainment.
Tickets start at $250, and are available now by clicking here!
---
About NRA
Established in 1871, the National Rifle Association is America's oldest civil rights and sportsmen's group. 5.5 million members strong, NRA continues its mission to uphold Second Amendment rights and is the leader in firearm education and training for law-abiding gun owners, law enforcement and the military. Visit www.nra.org.