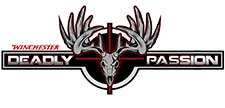 Minnetonka, MN –-(Ammoland.com)-  This week on Winchester Deadly Passion, host Melissa Bachman tries her luck in Illinois and Kansas for a spring turkey hunt, then she heads to South Dakota for an early spring snow goose chase with her dad and brother.
Tune in Winchester Deadly Passion on the Pursuit Channel on Tuesdays at 6:30 am, Wednesdays at 1:30 pm and Sunday at 7:30 pm ET. Catch a preview of the show here.
Even though Illinois weather offers Melissa nothing but rain and fog, she sits patiently in her ground blind calling in birds until one big tom takes notice of her decoys. After getting him down, she finds out he's sporting long spurs and a triple beard! Then she's off to Kansas, where she says she's had some of the best turkey hunting in her life. But the poor weather seems to have followed her – as well as predators! Both a bobcat and coyote bound through her decoys, scaring off any bird in the area. Will Lady Luck shine on Melissa to get her bird?
Finally, she travels to South Dakota with her dad and brother for a family snow goose hunt. After knocking on doors for permission, the group sets up their decoys and don't wait long for the goose show to begin.
"There were literally thousands of geese around these fields; the noise was almost deafening," said Melissa. "I've never seen anything like it before!"
In this week's Can-Am Tip of the Week, Melissa shares how she uses her Cuddeback camera year 'round by using it during turkey hunts. Since the camera only goes off when it senses action, the battery life lasts longer than a typical video camera, which can allow it to be used practically all turkey season. She recommends placing it about knee to mid-thigh high amongst the decoys to catch some very cool turkey struttin' action.
Tune in to see all the spring bird action this week on Pursuit Channel. Winchester Deadly Passion is sponsored by: Can-Am BRP, Easton, Mathews, Rage, Smith & Wesson, Swarovski Optik, Wildlife Research Center and Winchester.
Winchester's Deadly Passion is 13-weeks of non-stop action and pure entertainment as host Melissa Bachman travels the country going face to face with everything from world-class bear to 1,000-pound gators to Boone and Crockett whitetails. The show will keep you on the edge of your seat with hardcore hunting mixed with Melissa's genuine and fun-loving personality. Her passion for hunting started at a young age and has continued to grow. Melissa is the real deal when it comes to hunting, but her personality is what will bring you back time and time again. She's having fun doing what she loves, and it shows. This is one girl with a Deadly Passion.
Learn more about Winchester Deadly Passion at Facebook.Com/DeadlyPassionMelissaBachman.
With a company heritage dating back to 1866, Winchester Ammunition was there for the taming of the American West, the Allied Forces' victory in World War II and through the years, millions of fond memories made in the great outdoors. Known as The American Legend

, Winchester is a global leader in sporting, law enforcement, military and personal defense ammunition production. Winchester continues to raise the bar with new products like AA TrAAcker, Varmint X and the 17 Win. Super Mag. To learn more about Winchester, visit Winchester.com or connect with Winchester at Facebook.Com/WinchesterOfficial.
The post This Week on Winchester Deadly Passion: Triple Spring Fever appeared first on AmmoLand.com.