This Week on Gun Talk Radio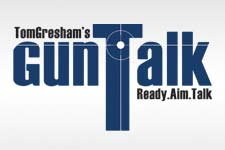 Mandeville, LA -(Ammoland.com)- Tom talks – what else? – firearms this Sunday on Tom Gresham's Gun Talk (R) Radio, the only nationally-syndicated radio talk show about guns and the shooting sports.
FNH USA makes it all – handguns, shotguns, rifles, ammunition, carbines, etc. Ken Pfau, Vice-President of Law Enforcement and Commercial Sales at FNH, knows what the cool new products are, and is here to tell you all about them!
There are now more than 6,000 members of The National Shooting Sports Foundation, or NSSF – a trade association for the firearms industry. Formed in 1961, NSSF's mission is to "promote, protect and preserve hunting and the shooting sports." Mark Thomas, Marketing Director at NSSF, drops in to talk with Tom about what NSSF has been doing in 2010, and what they have planned for 2011, including the industry's top wholesale show – SHOT Show – in Las Vegas, NV.
Davidson's Inc is one of the largest firearms wholesalers in America. Their website, GalleryofGuns.com, offers buyers a chance to purchase thousands of different firearms for sale, including dozens of exclusive firearms sold only by them. Davidson's President, Bryan Tucker, stops by Gun Talk to discuss how it works, what the new exclusives are, and more!
In its 15th year of national syndication, Tom Gresham's Gun Talk Radio airs live on Sundays from 2PM-5PM Eastern, and runs on over 100 stations, plus on SIRIUS (Ch. 108)/XM (Ch. 139) Satellite Radio. All Gun Talk shows can be downloaded as podcasts through Apple iTunes, the Gun Talk iPhone App, the Blackberry Podcast App, or at http://www.guntalk.libsyn.com. More information is available at http://www.guntalk.com.
The post This Week on Gun Talk Radio appeared first on AmmoLand.com.