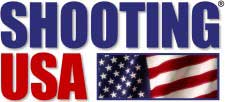 Nashville, TN -(AmmoLand.com)- Shooting USA – The U.S. Steel Nationals 2015   
It's drag racing with guns! How fast can you draw and shoot five steel targets?
The answer is very fast indeed when the Pros compete in the Smith & Wesson Steel Nationals in Florida. Plus, the enemy pistol of World War Two, The Japanese Nambu Type 94 is now one of History's Guns. And, 500 bowhunters compete in 3D Archery in the IBO National Championship.
Shooting USA's Impossible Shots – Hoop Shooting  
Shotgun Shooter Micah McMillan is sending tennis balls through hoops with his 12 gauge. Three-gun Champion Taran Butler puts his AR on his hip for a speed challenge. And, Master Gunfighter, Cisko puts his fast draw speed up against his throwing arm, racing knife and gun.
AIR TIMES BY TIME ZONE
The Shooting USA Hour Wednesday:
Eastern Time: 3:00PM, 9:00PM, 12:30 AM Thursday
Central Time: 2:00 PM, 8:00 PM, 11:30 PM
Mountain Time: 1:00 PM, 7:00 PM, 10:30 PM
Pacific Time: 12:00 Noon, 6:00 PM, 9:30 PM
Shooting USA is listed as a one-hour show in your cable menu.
Shooting USA's Impossible Shots:
Wednesday:
Eastern Time:  1:00 PM, 11:30 PM, 3:00 AM Thursday
Central Time:  12:00 Noon, 10:30 PM, 2:00 AM Thursday
Mountain Time: 11:00 AM, 9:30 PM, 1:00 AM Thursday
Pacific Time: 10:00 AM, 8:30 PM, 12:00 Midnight
More Multi-Gun
John and the crew are off to another multi-gun competition; only this time, juniors compete! It's the Generation 3-Gun Competition in Missouri. Stay tuned!
Stay Connected
Be sure to "Like" Shooting USA on Facebook for behind-the-scenes coverage: https://www.facebook.com/JimScoutten.ShootingUSA
And, on Instagram!
https://instagram.com/shootingusa
Jim
Defending the 2nd by Example in the 22st Year
JimScoutten@ShootingUSA.com
About Shooting USA
Jim Scoutten, America's Most Watched Firearms Reporter, has been on the beat for 14 years, reporting the stories of the Shooting Sports and the firearms Industry. The show produces a series of popular segments focusing on historical guns, the personalities in the sport and industry, insider reports from gun tests, and practical tips from shooting sports pros. The show appeals to shooting sports enthusiasts of all ages and skill levels by providing practical tips on safely handling, modifying and repairing their favorite guns.
For more information, please visit www.ShootingUSA.com.
The post This Week – Drag Racing with Guns at the Steel Nationals & Shooting Hoops with Micah appeared first on AmmoLand.com.