Takedown Briefcase AR15 Rifle : Update
Takedown Briefcase AR Thread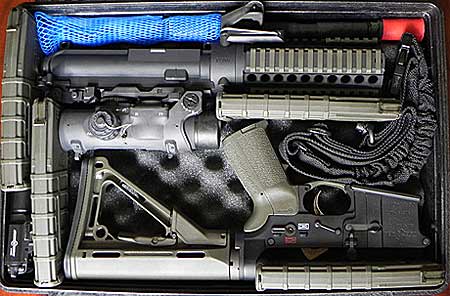 Honeoye Falls, NY –(Ammoland.com)- As we continue work on this Briefcase AR15 Rifle project , it's improving more and more each week.
We've installed and tested a custom built Osprey Defense piston conversion and we've switched to a DD CHF 14.5″ barrel with a permanently affixed PWS FSC556 compensator.
With these two changes, we took the rifle to the machine gun shoot in Tampa a few weeks ago and put a few hundred rounds through it and it is shooting like a dream; smooth and with no muzzle rise whatsoever, plus the shorter barrel balances the rifle much better and fits in the case easily. The complete package as it sits today in the case looks like this:
Components Shown Above:
Lower Reciever with Magpul CTR, MIAD, DD QD mount, Spikes buffer and BAD Ambi Safety Selector
Spikes Tactical internals with NickelBoron coated FCG, KNS pins, and extended takedown/pivot pins
MGI QCB-D upper with custom Osprey Defense Gas Piston Kit and FailZero BCG, POF roller cam pim
DD 14.5″ CHF 1/7 barrel with FSB and PWS FSC556 compensator
SpecterDR 1-4x Optic and Troy rear BUIS
Surefire X300 weapon light
Tactical Link Stealth Single Point Bungee Sling
4x 30rd Magpul Pmags
All in a Pelican 1490 case (with no need for foam cutting as everything currently fits tightly with no metal-metal contact and no movement when carrying it)
So as it stands, we have a tricked-out non-SBR AR-15 carbine complete with railed fore end, magpul furniture, large optics, BUIS, sling, light, and 120rds of ammo in magazines all packed into a laptop-sized case for carry or storage anywhere that space is at a premium, and discretion is required.
We will continue to test and tune this rifle as we still have a few tweaks we are exploring, and a small list of changes for the folks at MGI to incorporate into the upper. That will all be followed by another round of functional and accuracy testing including maintaining zero through various barrels. In addition, we are working on a few different layouts for the case, as well as exploring custom cases and options later this week.
If you have any input or would like to make any suggestions for this kit, feel free to post in the forum listed under the Project AR title above.
I'll leave you with a couple of pics of a simpler and much classier setup for this rifle:
About:
AR15.Com originated in 1996 as a mailing list for firearm enthusiasts. As the years passed and interest grew, a website came into existence to present those same enthusiasts with a means to collect, share, and explore information. Shortly afterwards, a bulletin board was added to create a more interactive experience for the growing list of users. The site was still in it's infancy, but was growing in popularity. Visit: www.ar15.com
The post Takedown Briefcase AR15 Rifle : Update appeared first on AmmoLand.com.