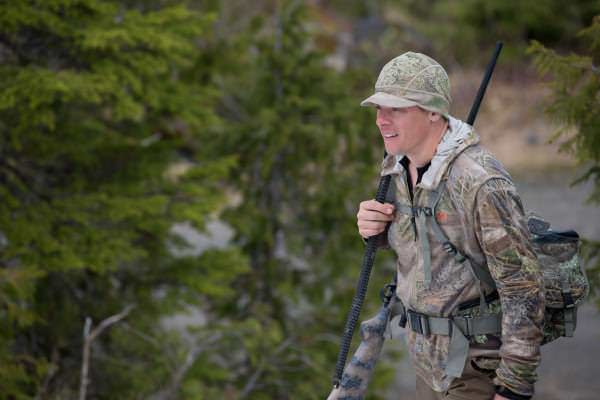 DENVER (Ammoland.Com) – MeatEater with Steven Rinella has been a perennial favorite with Outdoor Sportsman Group viewers since its debut six years ago. As Rinella eloquently puts it, the show is not just about the pursuit of an animal, but who Rinella is as a person and what he's made of to pursue that animal. MeatEater returns to Outdoor Channel with an all-new season on Monday, September 9 at 9 p.m. ET.
Growing up in the Midwest's great outdoors – hunting, fishing and trapping from a young age – Rinella has always viewed the world through the eyes of an ancestral hunter/gatherer. Inspired by early man's skill, ingenuity and sheer determination to survive and thrive under challenging circumstances, Rinella has made his life's work to cultivate those same qualities – and encourage others to do the same – while always being mindful of conservation principles and practices.
In MeatEater, Rinella explores various hunting techniques, tracks and pursues prey, and procures and cooks his own food. Whether tracking blacktail deer in the remote Alaskan wilderness, or rooting out javelina in Texas, Rinella leverages his back-country skills, challenging himself at every corner while providing nail-biting adventure along the way.
Steven Rinella is an avid outdoorsman, writer, and television personality best known for his ability to translate the hunting lifestyle to a wide variety of audiences. His weekly MeatEater podcast (distributed on Apple Podcasts, Google Play, Spotify and Stitcher) is the most popular podcast in the outdoor category on Apple. He is the author of six books including: "MeatEater: Adventures from the Life of an American Hunter;" the two-volume series: "The Complete Guide to Hunting;" "Butchering and Cooking Wild Game;" "American Buffalo: In Search of a Lost Icon;" "The Scavenger's Guide to Haute Cuisine" and the forthcoming "MeatEater Fish and Game Cookbook: Recipes and Techniques for Every Hunter and Angler" (Nov. 20, 2018). His articles have appeared in publications such as: Field and Stream, Men's Journal, Outside, Men's Health, The New York Times, Bowhunter and the anthologies Best American Travel Writing (2003, 2010, 2014 and 2016) and Best Food Writing (2005, 2013). He is a frequent guest of television and radio, has appeared on NPR's All Things Considered and Weekend Edition, The Joe Rogan Experience podcast, HBO's Real Sports with Bryant Gumbel, Fox and Friends and CNN's American Morning.
The MeatEater program also will be available on MyOutdoorTV (MOTV).
Tune into MeatEater on Mondays at 9 ET on Outdoor Channel. Check local listings or visit: www.OutdoorChannel.com/ChannelFinder to find the network in your area.
---
About Outdoor Channel:
Outdoor Channel has been taking viewers across America and around the world on unparalleled adventures since 1993. Dedicated to the outdoor lifestyle and conservation, the independent cable network is a division of Outdoor Sportsman Group and provides a complete spectrum of riveting hunting, fishing, shooting and adventure entertainment. Outdoor Channel is the largest outdoor TV footprint in the country and is available in more than 50 countries internationally. Outdoor Channel can be viewed in HD and is accessible by broadband and mobile platforms. For program times and other information, visit www.outdoorchannel.com. Follow us on Twitter, Instagram, Facebook and YouTube. #WhatGetsYouOutdoors. #MyOutdoorTV
The post Steven Rinella's "MeatEater" Premieres New Season on Outdoor Channel appeared first on AmmoLand.com.