U.S.A. – -(Ammoland.com)- "[B]ased on the government's representation that it will not enforce the Bump-Stock Rule against the named plaintiffs or their bona fide members before 5:00 p.m. on Wednesday, April 10, 2019, the emergency joint motion be denied and the administrative stay entered on March 23, 2019, and clarified on March 25, 2019, be dissolved," the United States Court of Appeals for the District of Columbia Circuit ordered Friday. If plaintiffs do not surrender or destroy their property by that time, they will be considered felons and subject to life-destroying fines, imprisonment and being designated "prohibited persons," forbidden by law to ever own a gun again.
Not a bad feather in the cap for "the most enthusiastic supporter of the Second Amendment to occupy the Oval Office in our lifetimes." With his new-found love for "red flag laws" and disregard for due process, Donald Trump is shaping up to be every bit the "true champion of the Second Amendment" NRA told us Harry Reid was.
"We are in the process of requesting a stay from the D.C. Circuit and will seek en banc rehearing," Firearms Policy Coalition announced in response to the new order. "If a person wishes to turn in their affected bumpstock device, Chief Counsel Joshua Prince of Firearms Industry Consulting Group, who is representing Firearms Policy Foundation and numerous other plaintiffs in Guedes, et al. v. ATF, et al., suggests that individuals surrender the item under protest to preserve your rights."
NOTE: IT CANNOT BE OVEREMPHASIZED, THIS APPLIES ONLY TO THOSE WHO WERE COVERED BY THE STAY. ALL OTHERS WOULD BE INCRIMINATING THEMSELVES IF THEY TRIED TO SURRENDER A DEVICE NOW THAT THE MARCH 26 DEADLINE HAS PASSED. (And it also cannot be overemphasized that I am not a lawyer and cannot provide qualified legal advice.)
That's the "choice" good Americans who tried to work within the system have had forced on them.  "Shall not be infringed" is archaic and irrelevant to servants who have usurped the role of masters. They know what the Second Amendment means. They also know even if "bump stocks" really were "machineguns" like the Trump administration's Intolerable Act absurdly claims, it would be "the birthright of an American" to own them.
Unknown at this writing is how many citizens have said the hell with it, and decided to embrace the "I will not comply" decision their countrymen have made over tyrannical state edicts in places like California, Connecticut, New York…
Also unknown is how much effort will be made to enforce the ban. Some are of the opinion that most enforcement will be an add-on resulting from searches where authorities have entered residences investigating other charges. Others may result from snitches. Then again, there are no guarantees.
In breaking news, RW Arms has filed suit against the government claiming $20 million in losses after destroying 73,000 of the devices to comply with the ban. Whether that decision was hasty or calculated remains to be seen.
"The ATF said … they won't destroy any surrendered bump stocks until all applicable litigation over the matter has been adjudicated," The Washington Times reported in a story centered on inventor Bill Akins surrendering 63 of his devices.  Readers of this column may recall my ownership of an Akins device is how I became a plaintiff against the rule.
That makes fair the question of what I will do, and the fair answer is, admitting whether or not I have retained possession of my "machinegun" is not for public disclosure. While defying the ban would be in keeping with past actions, and while I am reasonably certain if I did still have the stock I could evade detection indefinitely, it would be useless to me. Plus, there is a certain attraction to staying with the case to the end while even a slim chance for ultimate victory remains.
Perhaps those following the lawyers' suggestion to relinquish their property under protest will come to enjoy an experience heretofore unknown in the struggle to defend the right of the people to keep and bear arms: Forcing the Bureau of Alcohol, Tobacco, Firearms and Explosives to surrender the property to them.
Yeah, I know: Keep dreaming.
But somebody has to, and in this case, we know who is right. At the very least it may be useful to show gun owners once and for all where they stand and what more they can expect once all means of peaceful redress have been exhausted and denied. At least the gun owners who aren't in permanent 3D chess denial…
---
About David Codrea: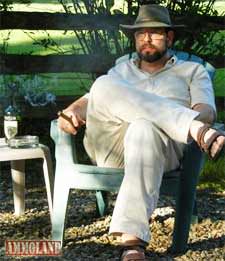 David Codrea is the winner of multiple journalist awards for investigating/defending the RKBA and a long-time gun owner rights advocate who defiantly challenges the folly of citizen disarmament. He blogs at "The War on Guns: Notes from the Resistance," is a regularly featured contributor to Firearms News, and posts on Twitter: @dcodrea and Facebook.