U.S.A. –-(Ammoland.com)- I've tested a few of the knives in the Spyderco Native 5 line. For this Product Review we're going to test the Spyderco Native 5 C41PSBK5 knife. It has what they call the combination blade which is half serrated and half plain edge. Spyderco has 11 options in their Native 5 line-up. In this line-up they offer up to three bade options on the 11 options:
PlainEdge-This is a plain edge.
CobminationEdge-The blade is half serrated & half plain.
SpydercoEdge-Which is serrated on all but about the last ½" of the blade.
I guess everyone appreciates a sharp knife but every time I test a new Spyderco knife I am blown away by their sharpness. They are so sharp that they almost scare me. No doubt, one slip and you just won a free (or not so free) trip to the emergency room. A knife this sharp won't stop until it hits a bone. So like with all knives but especially with this one be careful.
This knife is not a thick bladed survival/tactical type of knife. It is what I would classify as a high-level EDC. So if you're in the market for a classy EDC then you need to check out the Spyderco Native 5 C41PSBK5 folder. Due to the half-serrated edge it would also meet my requirements to use while rafting or boating in general. It would slice through a rope in a hot second like hot butter. The Spyderco Native 5 C41psbk5 has an MSRP of $150.00 and as usual, we will close with the specs and this time a quote from Spyderco regarding this line of knives.
Since its original release in 1997, the Native has been a mainstay of the Spyderco product line and a flagship of our American-made stable of knives. The design has evolved steadily over the years, reaching its current state of the art in 2012 with the release of the Native5. The latest addition to the Native lineage is the Native5 Lightweight, which combines the Native5's engineering refinements with the weight-saving advantages of an injection-molded fiberglass-reinforced-nylon (FRN) handle.
Proudly manufactured in our factory in Golden, Colorado, the Native5 features a spear point blade made from premium CPM S30V stainless steel. Its full-flat grind, distal taper, textured index-finger choil and thumb ramp, and understated swedge collectively offer a distinctive appearance and outstanding edge geometry and point utility. The blade is supported by a highly refined back lock mechanism that takes this time-tested lock design and elevates it to a new standard of engineering and manufacturing excellence.
The linerless FRN handle features Bi-Directional Texturing

for an ultra-secure grip and reduces the overall weight of the knife to a scant 2.5 ounces. The handle also houses four sets of threaded inserts molded directly into the FRN. These allow the improved hourglass clip to be positioned for left or right-side tip-up or tip-down carry. A generously sized lanyard hole also provides a handy attachment point for lanyards, fobs, and safety lines.
A highly advanced evolution of a time-honored design, the Native5 Lightweight is an incredibly capable, pocket-sized cutting tool and a shining example of Spyderco's commitment to making even our best products consistently better.
Overall Length – 6.95″ (177mm)
Blade Length – 2.95″ (75mm)
Steel – CPM S30V
Closed Length – 4.00″ (102mm)
Edge Length – 2.42″ (61mm)
Weight – 2.5oz (71g)
Blade Thickness – 0.125″ (3.2mm)
Handle – FRN
Clip Position – Ambi
Tip Carry Position – Tip-Up/Down
Lock Type – Back Lock
Grind – Full-Flat
Sheath – N/A
Origin – United States
---
About Tom Claycomb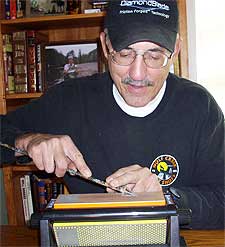 Tom Claycomb has been an avid hunter/fisherman throughout his life as well as an outdoors writer with outdoor columns in the magazine Hunt Alaska, Bass Pro Shops, Bowhunter.net and freelances for numerous magazines and newspapers. "To properly skin your animal, you will need a sharp knife. I have an e-article on Amazon Kindle titled Knife Sharpening #ad for $.99 if you're having trouble."
The post SPYDERCO NATIVE 5 FOLDING KNIFE – Review appeared first on AmmoLand.com.