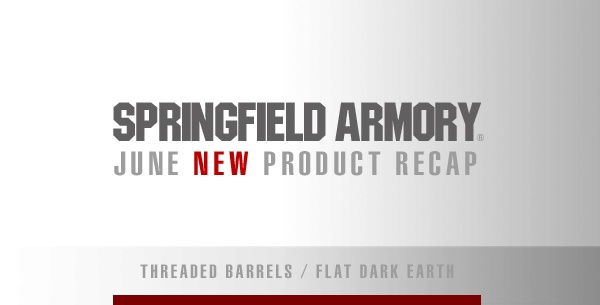 Geneseo, IL –– (AmmoLand.com) It's been a busy month at Springfield Armory — have you heard what's new?
Between the suppressor-ready threaded barrel pistols and enough FDE (Flat Dark Earth) to satisfy any professional shooter or military operator, June brought a virtual storm of new products available for order.
Not to mention that XD-S Single Stack Summer has officially launched! Customers that pick up a new pistol in the XD-S product line between June 1 – Aug. 31, 2015, can redeem their purchase to get a free magazine package valued at $150.
Let's dive into what was announced this month. 
XD(M) 4.5″ Threaded Barrel Pistol
Suppressor fans rejoice — Springfield Armory has released a Lipsey's Exclusive threaded barrel pistol chambered for .45 ACP and 9mm calibers.
These pistols perform as you'd expect, with the accuracy, reliability and durability of an XD(M) series model. So what sets these threaded barrel pistols apart?
They're suppressor-ready
They boast slightly longer barrels
They have taller sights for whether you're using a suppressor or not
They come in either black (.45 ACP) or FDE (9mm)
Get a load of this thing in action:
Flat Dark Earth (FDE) Tone Variant
M1A Loaded Precision Adjustable Stock (PAS) and XD-S 3.3″
This month, Springfield Armory made it a whole lot easier to please the tactical side of every shooter. Both the flagship MIA Loaded PAS rifle and XD-S 3.3″ pistol in 9mm and .45ACP caliber were introduced in the FDE tone.
Introducing FDE to these tried and true models is part of Springfield's effort to meet marketplace demand. It's an ideal tone for military operators and professional shooters alike and is available through retailers nationwide. But if it's the XD-S FDE 3.3″ you're after, you'll find it exclusively through Davidson's, Inc.
More From Springfield Armory
The post Springfield Armory June New Products Recap: Threaded Barrels & Flat Dark Earth appeared first on AmmoLand.com.