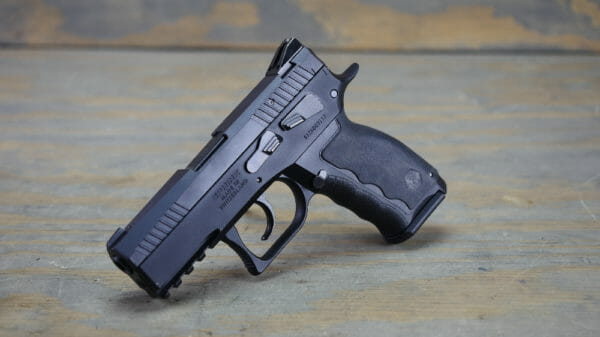 U.S.A. – If you are either a gun nerd or a gun hipster, there is a solid chance that you have heard of the Sphinx SDP Compact. If you haven't, the pistol has been around a lot longer than you might realize with a US market release back in 2013 for the standard SDP Compact with the SDP Compact Alpha like the one here being launched sometime around mid-2014.
As I recall, the initial reaction to the Sphinx SDP Compact Alpha was reasonably positive from both media types as well as the gun buying public. It was different and that was refreshing for many enthusiasts that were becoming tired of the same old plastic fantastic wonder nine. The age of "do you even innovate bro" had begun and the Sphinx SDP Compact seemed to have all the right qualifications to take the market by storm. A finely machined steel slide, an aluminum frame, and a polymer grip all come together around some well fitted Swiss parts that … well, work together like a Swiss watch.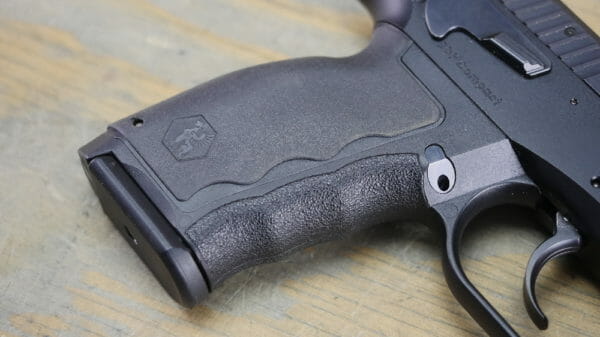 As you might know, the Sphinx SDP Compact isn't exactly a common pistol making it quite clear that while it had the potential to do quite well, it just flat didn't. After owning this pistol since 2014 after helping my friend review the gun, I feel like I have a pretty solid theory as to why it didn't explode in popularity even though I really wanted it to.
Note: Since I acquired my Swiss-made pistol, production has been moved to the US after the original Sphinx Systems suffered some financial problems in November 2015. Currently, the Sphinx SDP line of pistols is manufactured, sold, and supported by KRISS USA.  
What Makes The Sphinx SDP Compact Stand Out?
As I mentioned earlier, the Sphinx SDP Compact Alpha has a rather unique construction that utilizes steel, aluminum, and polymer that was quite different from what was common. The low profile PVD coated steel slide is beautifully machined with gorgeous rainbows on some of the bare steel inside the slide from the tempering process.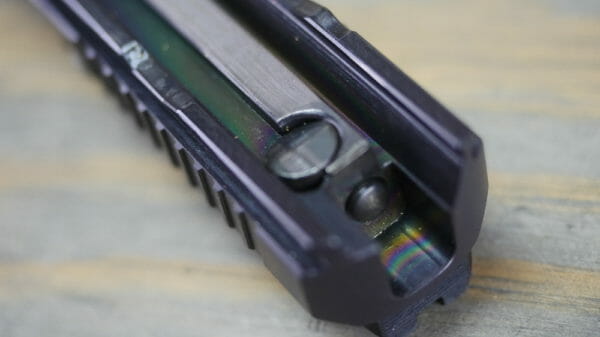 The mid-frame is made from a hardcoat anodized aluminum that sports a nice high beavertail and a 1913 railed dustcover that will accept whatever accessory your heart desires. This is the part where the pistol's construction gets a bit weird, the grip portion of the frame. Sphinx used a polymer composite and some screws to attach a lighter weight molded grip with interchangeable grip shell type things to the nicely machined mid-frame. Interesting, but I'm not sure that the less than an ounce saved (25 grams to be exact) is worth forgoing the tougher aluminum frame. 
Like other CZ 75 variants, the slide rides inside of the frame that provides a tighter slide to frame fitment than the more traditional slide over frame arrangement. In theory, the tighter slide to frame fitment should increase the level of accuracy that the pistol is capable of. The inclusion of the internal slide rails should keep CZ fan-boys moist for days, but will it translate to a better 25-yards target for me? Only one way to find out.
The controls on the SDP Compact are almost identical in layout to a decocker model CZ 75, nothing new there really. The straight forward design gives you a slide stop that is also the takedown pin, a reversible mag release, and an ambi decocker lever. As for the trigger, it is a reasonably nice DA/SA out of the box. After more than 5,000 rounds, my pistol still has a rather heavy 10 pound 12-ounce double action but the single action is pretty stellar at 4 pounds with a crisp, clean break. Sphinx says that it should be a 10+ pound double action and a 4+ pound single action, I guess my pistol is pretty close to the advertised specs.
I bet you are telling yourself that the Sphinx SDP Compact sounds like a winner? Too soon junior.
My Ownership Experience & Aftermarket Support
Even with all of the awesome specs, a large part of how good a pistol is perceived by the owner comes down to the ownership experience. It can be the most mechanically accurate pistol on the planet but have squarely average sights or a trigger that is great in some ways, but terrible in others and the ownership experience is tainted. Another factor that I take into consideration is the aftermarket for the gun. Often I will learn things as I use a firearm that I want to address but if there isn't an aftermarket for the gun, I am stuck with that perceived deficiency poking my brain with a stick every time I pick the gun up.
With that established, my ownership experience with the Sphinx SDP has been tainted by a few things, most notably the distinct lack of aftermarket support. While the single action trigger on my example is outstanding for a duty pistol, the double action feels like I am dragging a Mosin Nagant across some gravel with a string.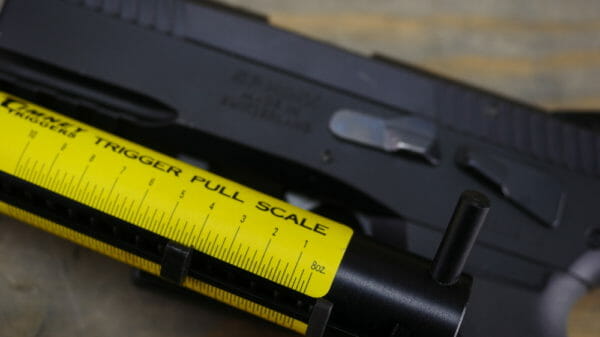 In an effort to combat the rough double action, I initially added the now discontinued Cajun Gun Works spring kit that improved the weight, but the overall feel of the double action was still notchy and gritty. Since that didn't fix the issue, I sent the pistol into KRISS USA for their gunsmiths to take a look at it. They replaced the springs and sent the pistol back, the double action trigger pull was just as bad as ever but now it was.
I should note that my first choice was to send the whole pistol into Cajun Gun Works but just a few months before I decided to get the trigger issue addressed, CGW announced they would no longer be servicing the Sphinx pistols due to the gun being extremely hard to take apart. Quite a shame, I would have loved to have a Cajunized Sphinx SDP. I feel that if anyone had a chance to rectify the offending double action trigger, it would have been them.
I mentioned the lack of aftermarket earlier, and guess what, there is near nothing for the Sphinx pistols beyond a few small parts from ZRTS like basepads, a compensator, springs, u notch rear sight, and some fiber optic fixed front sights. The only part that I ordered from ZRTS was a stock height fiber front only to replace it with the stock one later due to continual issues sourcing quality .060″ fiber inserts from online sellers. I do think that the ZRTS upgrades are a solid starting point for a Sphinx aftermarket, the front sight is fantastic but I really wish that they would offer it with a .040″ fiber insert rather than the harder to source .060″ fiber.
So, no aftermarket trigger work to speak of anymore, no RMR mounting solution from quality machine shops that I personally trust, no quality adjustable sights, and magazines that were pretty damned pricy at the time I bought the gun in 2014. On top of the lack of aftermarket parts, Sphinx promised things like night sights and a full-size version time after time only to not deliver. 4 years later and the full-size Sphinx SDP is still not a thing.
I think you are starting to get a good look at what it is like to own a Sphinx SDP Compact.
Shooting The Sphinx SDP Compact
All of that said, my Sphinx SDP Compact is a fantastic shooter as long as you get past that abysmal double action. The lightweight, low profile slide and low mounted barrel provide a very soft recoil impulse. Muzzle flip is minimal making recovering from recoil and re-acquiring a sight picture quite easy. I was able to shoot the Vickers/Hackathorn test in well under the 10-second time limit with a score of 97/100 with 4 X-ring hits, not too shabby for an iron sighted pistol.
I know that I mention the gritty, heavy double action a lot, but it really soils the shooting experience. That first double action trigger pull is exponentially harder than other DA/SA guns as a result of the rough trigger. That translated to more pulled first shots or much longer split times from buzzer to first shot than I would like.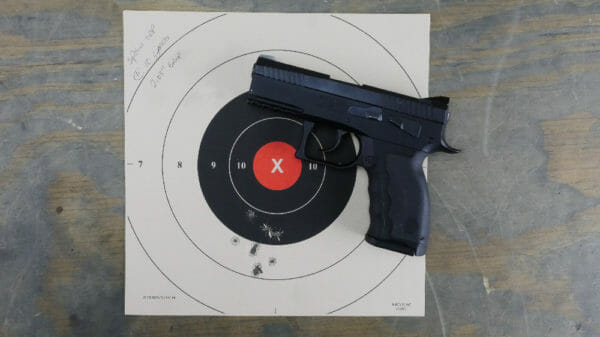 Once you touch that first round off, the follow up shooting in single action is quite pleasant. In fact, when shooting an NRA B8 at 25-yards for accuracy, the Sphinx produced a 3.55″ group with Sellier & Bellot 115-grain FMJ largely thanks to the stellar single action. As much as I would have like that result to be the norm, that isn't always the case. I believe the gun to be capable of much smaller groups, but sadly I am just not up to the task without a ransom rest or a red dot.
I did find that my Sphinx SDP Compact is far pickier with ammunition that I would like. When shooting 115-grain Blaser Brass the best group that I was able to manage from the pistol was 5.52″ at 25-yards. Normally I would chalk the delta up to shooter error but after half a dozen range trips with the same lot of ammo and roughly identical results, I am reasonably sure that the pistol just hated the Blaser Brass ammo which is interesting since I have been able to get groups out of my Glock 19 that measure in the 3″ to 3.5″ range with the same lot of ammo.
Even though the pistol seems to dislike some ammo, I don't have any complaints in the reliability of the pistol with somewhere around 5,000 to 6,000 rounds through the gun without any malfunctions that I can think of.
There were a couple of other slightly antiquated features of the pistol that impacted the shooting experience like the placement of the slide release. While just about every CZ variant has the slide release in the same place and they are perfectly serviceable, Sphinx could have moved it more rearward when redesigning the Sphinx 3000 for mass production. Personally, I believe I would have been much happier with the controls if the slide release was where the decocker is and the decocker was shaped more like the one found on current CZ decocker models. While the control layout is a minor issue, I felt it worthy of mention.
Lastly, the sights are in dire need of updating with a high visibility front sight like a Trijicon HD, XS Sights F8, or preferably a nice fiber optic front with an adjustable rear sight. I found that lining the top of the sight up was often hard in less than ideal lighting conditions like that found in indoor ranges.
Final Thoughts About the Sphinx SDP Compact
With a rocky ownership experience and the empty promises for more aftermarket support for years, I have to admit that my time with the Sphinx SDP Compact has been bittersweet at best. In fact, as a result of the issues through the 5-years it has been in my possession the pistol made my top 5 regretable gun purchases right along with the Hudson H9, a Springfield XD Sub-Compact in .40 S&W, a Glock 27, and a series 1 stainless Kimber Pro Carry that just wouldn't run.
I do want to mention the finish on the mid-frame being a bit thin and prone to wear. While I rarely concealed the pistol and generally gravitated to something smaller at the time, I was still in love with the gun but the finish just does not react well to use.
Even though the gun checked all the right boxes and should have been the DA/SA pistol to rule them all, I honestly wish I had never bought the pistol and will be selling it in the near future. Your experience may vary, but I wouldn't feel comfortable recommending it to anyone.
Now just because I had a mediocre ownership experience doesn't mean that it is a bad gun. In fact, there are a ton of people out there that love the Sphinx SDP Compact for one reason or another. In my experience those folks are generally looking for a non-standard pistol for carry to just be different or because their favorite YouTuber said nice things about the gun. Sure, there are a few really competent shooters that own or carry the SDP Compact, the gun does have a lot to offer someone who is passionate about DA/SA pistols and is generally happy with pistols as they come out of the box.
The Sphinx SDP Compact is a bit pricy with an MSRP of $949.00 at the time that I am writing this review down from the old MSRP of $1,295 when I purchased it in 2014. Street price seems to be somewhere between $775 and $850 depending on model. Learn more about it on the KRISS USA website.
---
About Patrick R.
Patrick is a firearms enthusiast that values the quest for not only the best possible gear setup but also pragmatic ways to improve his shooting skills across a wide range of disciplines. He values truthful, honest information above all else and had committed to cutting through marketing fluff to deliver the truth. You can find the rest of his work on FirearmRack.com as well as on the YouTube channel Firearm Rack or Instagram at @thepatrickroberts.