Spending Years In The Swamps Leads To The Creation Of Down-N-Dirty Outdoors
LEWISBURG, Kentucky –-(Ammoland.com)- Mark Coin and Jason Kidd, the owners of Down-N-Dirty Outdoors, were both born in the game-rich state of Kentucky, but they weren't destined to meet until a serendipitous moment much later in life.
Life, it seems, would take them in two very different directions, with Kidd pursuing the elusive long beards while Coin served the Marine Corps.
The two wouldn't meet until many years later, but Coin and Kidd walked very similar paths, pursuing the same outdoor goals.
From their very youths, the two found themselves drawn to the hunting woods, each honing his calling skills to become a more successful hunter.
It didn't take Coin long to realize that the harder he worked and the longer he practiced, the more frequently he'd win the competition of calling in birds against other hunters on public land.
He soon found success with those skills off the hunting lands at official calling contests. He won the first owl hooting contest he entered—A Kentucky state competition—and he has won or placed in myriad other contests including a top- five finish in the Owl Hooting division a the NWTF Grand Nationals.
Being also very proficient at calling waterfowl, Coin has won or placed in several world style and meat duck calling contests, including his Kentucky State Title in 2004. He followed that with an appearance in the World Duck Calling Championship that same year.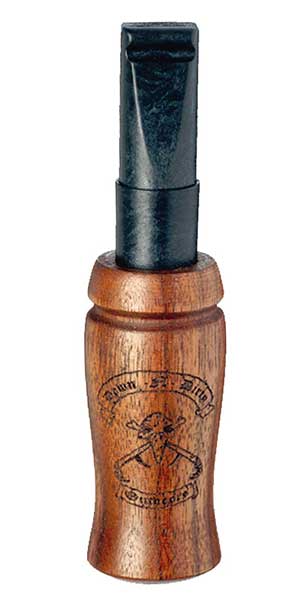 Elsewhere in Kentucky, Kidd was making a name for himself in his own right as a caller to be reckoned with by winning and placing in several local, regional and state contests. It wasn't until 2001 that the two would meet in a duck blind, accompanied by a mutual friend. Coin's and Kidd's friendship was instantaneous, but their combined potential had yet to be realized.
"After spending a couple of years in the swamps and in blinds together, there was no doubt that our passion and obsession for the outdoors was mutual," said Kidd.

"Our talks quickly turned to the need for a new breed of call in the market—calls of the highest handcrafted quality that sounded like the real thing and were priced so that any hunter could afford them. In a conversation on the way to the Kentucky State Duck Calling contest in early 2004, Down-N-Dirty Outdoors was born."
The two dedicated hunters devised a plan around a simple idea: crafting the finest line of turkey calls ever developed, consistent with the style of hunting that made them both successful in the woods and on the stage. The calls had to be tough, they had to last, and most of all, they had to sound exactly like a live bird.
Through their experience and determination, Down-N-Dirty Outdoors has come to offer hunters the most advanced line of game calls available today.
From the unique-looking diaphragms to the exceptionally designed pot calls, the entire line is built by hand with one goal in mind: to create the finest quality, affordable game calls that absolutely mimic your prey.
There are no gimmicks; no pretty faces; no bull. The calls from Down-N-Dirty Outdoors are just the finest calls available on the market today, and they will make you a more successful hunter for years to come.
For more information on Down-N-Dirty Outdoors, go to www.downndirtyoutdoors.com. Be sure to visit the Down-N-Dirty Outdoors fan page on Facebook.
The post Spending Years In The Swamps Leads To The Creation Of Down-N-Dirty Outdoors appeared first on AmmoLand.com.