Opinion
USA – -(AmmoLand.com)- So I own a new Smith & Wesson Performance Center Model-19 Carry Comp Revolver. I picked it up at the Camarillo Gun Store in California last month. I keep a revolver on my CCW list. (California allows you only a few guns that must be identified by serial number). Since this is an S&W Performance Center product the expert in house gunsmiths at S&W have fine-tuned this K-Comp to make it even better than the already great stock model-19. Their work on the trigger has made it really nice to shoot.
Some background from the S&W Product page;
Return of the Model 19 K-Comp
The Performance Center Model 19 Carry Comp is designed for concealed carry and includes a tritium front night sight, custom wood and synthetic boot grips, and a 3″ PowerPort vented barrel for recoil management.  The revolver features a trigger overtravel stop and Performance Center tuned action for a smooth double-action and light single action trigger pull.

Other Features:

PowerPort Vented Barrel
Tritium Night Sight
Trigger Overtravel Stop
PC Tuned Action

ALL BACKED BY OUR SMITH & WESSON LIFETIME SERVICE POLICY.

SPECIFICATIONS

SKU: 12039
Model: PERFORMANCE CENTER® Model 19 Carry Comp®
Caliber: 357 Magnum, 38 S&W SPECIAL +P
Capacity: 6
Barrel Length: 3″ / 7.6 cm
Overall Length: 8.0″
Front Sight: Tritium Night Sight
Rear Sight: Black Blade Adjustable
Action: Single/Double Action
Grip: Custom Wood and Synthetic Included
Weight: 34.1 oz / 966.7g
Cylinder Material: Carbon Steel
Barrel Material: Stainless Steel
Frame Material: Carbon Steel

Purpose: Enthusiast, Home Protection, Personal Protection, Recreational Shooting.
I like revolvers for self-defense, and this one will replace a 3" 686. This is a tad lighter, and the ported barrel is effective. It makes a .357 feel like a .38 special. The target below is at 10 meters.
I freely admit that there are two groups here; my eye is drawn to the last hit, meaning that I can string my shots unless I'm careful. This is a 5 shot group. The gun will easily produce an under 1-inch group at 10 meters.
The gun is beautifully finished, and the sights and trigger are what you expect for the price. The gun was JUST south of $1,000. In single action the trigger was amazing, and the groups tight, it double action the groups opened up to 3 inches at 10 meters. Still good enough and if you stage the trigger, you can drop an inch or so off of that number.
As with all new S&W revolvers, they are pretty dry inside, so the 1st two steps for owning any gun are to clean it and lube it. I don't care what you own or what you shoot; this should ALWAYS be the 1st things you do. With an S&W you need to remove the side plate spray it with cleaner then dry and lube the revolver's guts.
Then reassemble and run a patch through the barrel, then a little lube for the cylinder. You just invested in a gun that you may need to save your life or the life of someone you love. Treat the gun right. Same philosophy for a Glock or 1911. Clean and lube the gun when you take it home.
The Smith and Wesson Model 19 Comp is a joy to shoot; the problem with short barreled revolvers is always the recoil with a hot round. The comp solves that problem. The smooth trigger makes the gun easy to shoot, and easy to stage too if you need. While I love the look of the wood grips, she also comes with nice soft rubber grips to make the gun a bit easier to hold.
As I've gotten older, I've found only premium guns are relevant to me. I enjoy the feel and fit of a fine firearm. While a Taurus snuby costs a lot less the feel just isn't there, and the group size isn't there, the sights are too rough.
Yes, you pay for Custom Shop from Smith, but the gun itself is a little jewel. A small revolver that is accurate and fun to shoot.
---
About Don McDougall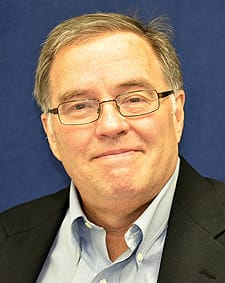 Don McDougall is an NRA instructor and member of the Los Padres "Friends of the NRA" committee. If he's not at the range, you will find him setting the record straight with on gun issues and gun safety on AmmoLand Shooting Sports News.