U.S.A. –-(Ammoland.com)- We'll get to the product Review on the Smith's Consumer Products Adaha Knife in a minute but first, let me digress. I'm not a real pacesetter. I don't rush out to be the first to buy every new gizmo that hits the market. Truth be known, it's mostly because I'm a tightwad but also somewhat because I'm skeptical of slick marketers. For instance, why are all other bows outdated except for your latest/greatest new model? Weren't you the same guy that just last year was saying the same thing about my current bow? Or rifle, or boots or whatever you're touting.
A year or two ago a couple of us were out at breakfast and I asked the late legendary Dwight Schuh what kind of bow he shot. It surprised me. He was still using some bow he'd had for over eight years. He basically said the same thing I said in the first paragraph so that made me feel like I was justified in my beliefs.
But according to my sweet little wife I carry it to an extreme. So no doubt, the truth is somewhere in the middle. So let's go with Benjamin Franklin's old saying "Don't be the first to embrace the new, nor the last to discard the old" (that last part would be me).
So with all of the above said, why not now and then buy something new if it looks cool and will upgrade your looks? Which brings up the PR today on the Smith's Consumer Products Adaha knife. I'm not saying that it is an elite looking knife but it is unique with its wood checkered handle. Years ago you saw a lot of wood handled knives but not anymore. In fact, I can't remember the last wood handled knife I tested other than some of the 6-inch boning knives like the last Dexter Russell "Don't Tread On Me" or the Victorinox Forschner 6-inch boning knife. And I test 60-100 knives/yr.
If you're looking for a functional EDC folder you ought to check out the Adah. Due to the wood handle, I think that every time you pull it out everyone will ask you to let them take a look at it. As I said, I'm not saying that it is exceptionally beautiful but it does catch your eye.
Which brings up the philosophical question. On items you use everyday why not spend a couple of more bucks and have something nice looking? And at the MSRP of $28.99 it's not like The Smith's Consumer Products Adaha knife is an expensive EDC.
Now let's get into the specifics. As you know, I like to carry a folder with a 3.5-inch blade for my EDC. The Adaha fits the bill measuring in at 3.43-inches. I can work the thumb stud opener on this knife easily and I'm thumb stud challenged. So if I find it easy to use and functional, then anyone should.
The blade is of a drop point design but the spine slopes down so it has enough of a point to meet my desires. For my EDC I require a clip point or at least one with a semi point like this one so I can complete my daily tasks.
I feel like while holding the Adaha that I have a firm grip due to the definite finger groove on the bottom. It has thumb grooves on the top but they are pretty slick so I'm not sure if they actually help too much. But no biggee because like I said, with the bottom finger groove you have a firm grasp.
The Adaha has aright hand pocket clip which positions the blade tip up so when you pull out your knife it is in the position to flip it open and get to work. It also has a lanyard hole if you like to use lanyards.
And as usual, we will close with the specs:
3.43" 420 Stainless satin blade
Ambidextrous thumb studs
Pocket clip
Natural wood handle
Lanyard hole
Liner lock
7.9" overall length when open
---
About Tom Claycomb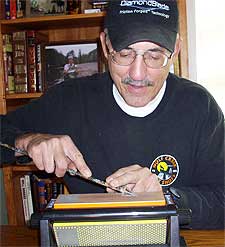 Tom Claycomb has been an avid hunter/fisherman throughout his life as well as an outdoors writer with outdoor columns in the magazine Hunt Alaska, Bass Pro Shops, Bowhunter.net and freelances for numerous magazines and newspapers. "To properly skin your animal you will need a sharp knife. I have an e-article on Amazon Kindle titled Knife Sharpening for $.99 if you're having trouble."