Idaho – -(AmmoLand.com)- I recently received a Smith's Battleplan Knife to test. Right away I must point out two features that work, unlike a significant majority of other knives that I test.
The thumb studs and the flipper pop the blade out in record time. Maybe I'm not coordinated, but most of the knives with thumb studs that I test are semi non-functional. The studs are not mounted far enough down the blade to get leverage, and a lot of the flippers are too short to be functional. Both items work great on the Smith's Battleplan Knife. In fact, there are slight indentations for the thumb to slide into place to access the thumb studs.
Smith Battleplan Folding Knife
So due to the above two functional features I automatically like the knife. Now to move on. I've grown fond of textured G10 handles. I feel like I have a firm grip on them and they appear to be durable. Not that popularity means that it is right, but I sure do see G10 material being used for a lot of knife handles.
Next feature-the pocket clip is reversible which it hasn't been the case on the other Smith's knives that I have tested so far. This is good as it will appeal to our left-handed brothers. It utilizes a liner locking system which is the only flaw that I see in the knife. Not that I don't like liner locks, but this one doesn't position into the middle of the blade but barely clings to the outside corner of the hilt of the blade.
I don't know if I can verbalize what I'm about to try to say, but I'll try. I am out of town as I write this, so I don't have a screwdriver with me, so I stuck a butter knife in to bend the liner lock over a little more. That's when I noticed that the backside of the blade is slightly angled. I assume to allow the liner lock to activate but after it barely engages the angle goes in which restricts the liner lock from progressing any further. I think if I can find a super small file and slip it in between the handles that I can slightly file the butt of the blade angle down slightly so the liner lock will progress over another 1/64th inch, which will move it to the center of the blade which will provide for a lot better stability. Or maybe I ought to say better insurance against it slipping and letting the blade close on your hand. It this works, then it will provide for a more stable lock.
Another favorite feature is that it has a slot in the back so you can attach a lanyard if so desired. And it is an open side knife which allows for super easy cleaning., which is a big deal if you slice sausage, cheese, etc. with your EDC.
I have the Smith's Battleplan Knife (Black), but it also comes in Desert Tan and OD Green. Mine did not come from the factory exceptionally sharp, but that's no big deal. I can sharpen a knife.
So in a nutshell, I like the knife and would recommend it for an EDC. Especially since it comes with an MSRP of $34.99. And as usual, we will close with the specs.
Smith Battleplan Folding Knife SPECS:
2.78" 420 Stainless black blade
Ambidextrous thumb studs
Reversible pocket clip
G10 handle
Lanyard hole
Liner lock
7.85" overall length when open
---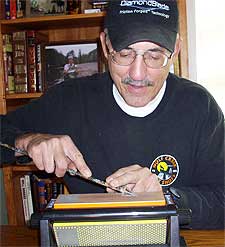 About Tom Claycomb
Tom Claycomb has been an avid hunter/fisherman throughout his life as well as an outdoors writer with outdoor columns in the magazine Hunt Alaska, Bass Pro Shops, Bowhunter.net and freelances for numerous magazines and newspapers. "To properly skin your animal you will need a sharp knife. I have an e-article on Amazon Kindle titled Knife Sharpening for $.99 if you're having trouble."