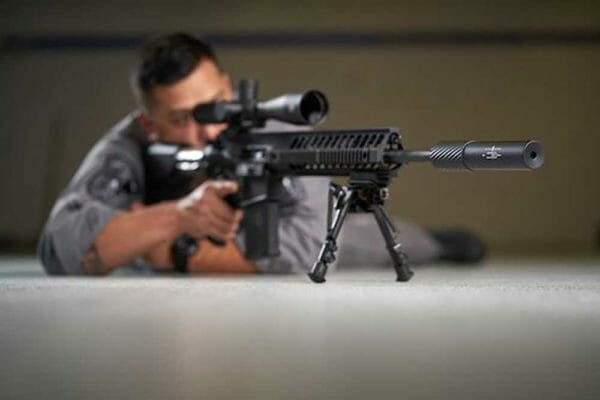 Oak Ridge, NC –-(Ammoland.com)- Silent Legion offers two .30 caliber suppressors with superior mounting systems and lightweight, durable designs. The direct thread model delivers incredible stability, while the quick detach suppressor maximizes convenience and flexibility for tactical and field use.
The lightweight .30 caliber cartridge is fun for target shooting and can serve for self-defense and hunting uses. Designed as a lightweight option for non-combat soldiers in WWII, the .30 carbine round was intended to pack more punch and range than a pistol without weighing down support personnel not involved in direct combat. It has since evolved into numerous cartridges that are popular for hunting, combat, recreational shooting and defense.
A Bi-Lock flash hider is included with the quick detach model. The piece threads into your barrel and serves as the quick attachment point. The ability to attach and detach the suppressor in seconds is convenient while offering a tactical advantage in the field. Remove the suppressor and you can store your weapon without requiring a new case. When you are ready to shoot, pop it back on and you can fire immediately.
The direct thread model takes a few seconds longer to mount, but it offers incredible stability in a single piece. Shooters carrying their gun in the field without a case can simply leave the suppressor attached. Both models are lightweight and constructed from titanium with a serious Cerakote heat treatment finish. The construction is designed to last forever and is backed with a lifetime warranty.
Key product features:
32-decibel reduction snuffs sound
7.8″ direct thread length and 9.2″ quick detach length
1.5″ diameter on both models
17.5 oz quick detach weight and 13.1 oz direct thread weight
Titanium construction with high-temperature Cerakote finish
Bi-Lock QD, 7.62 NATO Suppressor, and target on crown muzzle included on quick detach model
Suppressor and Suppressor Retention System included with direct thread
Silent Legion Suppressors: Guaranteed for Life
Find all your favorite lines at www.silentlegion.com
---
About Silent Legion
Silent Legion, based in North Carolina, builds suppressors to the highest quality standards in an ISO-9001 certified facility. The company is unique in many ways, such as being owned and led by a prior military service member who is also an accomplished Mechanical Engineer and gun designer. Silent Legion suppressors are warrantied for life and are available in both quick-detach and direct-thread models for an extremely wide variety of calibers and firearm types. Further, Silent Legion prides itself on including whatever components a buyer needs in the box. That includes suppressor versions with quick-detach mounts, serviceable cores, and even a complete Multi Caliber Kit, all without requiring consumers shop for extra parts.
For more information, please visit WWW.SILENTLEGION.COM