It can be easily argued that SIG Sauer's P210 set the accuracy standard by which all 9mm pistols should be judged decades ago and we have been lusting after one since we first saw one circa 1989 or so. With prices of the originals always a bit out of reach for us, we were pleased when SIG announced that they were going to make the pistol at their US facility a little over 2 years ago.
U.S.A. –-(Ammoland.com)- SIG's P210 has a classic profile that reflects the era in which it was designed (late 1940s) and it is one of those designs that get in your head and won't go away, despite how many handcrafted pistols fill your hands between then and now.
The pistol's design owes its heritage to Charles Petter's Modèle 1935A pistol from 1935. Two years later SIG acquired a license for it in order to develop a replacement for the Swiss Army's Luger pistols. Unsatisfied with the design, SIG made some improvements, but retained the self-contained firing and recoil systems.
They also reduced the capacity of Petter's pistol from 16 to 8 and the final version was complete by October 1948 as the Pistole Modell 1949 for the military and SP47/8 for civilian sporting sales. In 1957 SIG changed the name to the P210.
Available calibers were 9mm and 30 Luger, as well as 22 LR conversion kits.
SIG P210 pistols were issued to the Swiss military and most police forces in the country from 1949 to 1975. It was adopted by a number of other countries including Denmark, Finland, Monaco and West Germany.
This American made version looks extremely close to the original with a US-style magazine release instead of the traditional European release and of course a more familiar frame mounted 1911-ish safety. The target model sports an adjustable rear sight and fancy walnut grips very similar to those made by NIL. A beaver tail on the frame is not original, but gives a nice upgraded look to the pistol and fills out the hand like an S&W Model 41.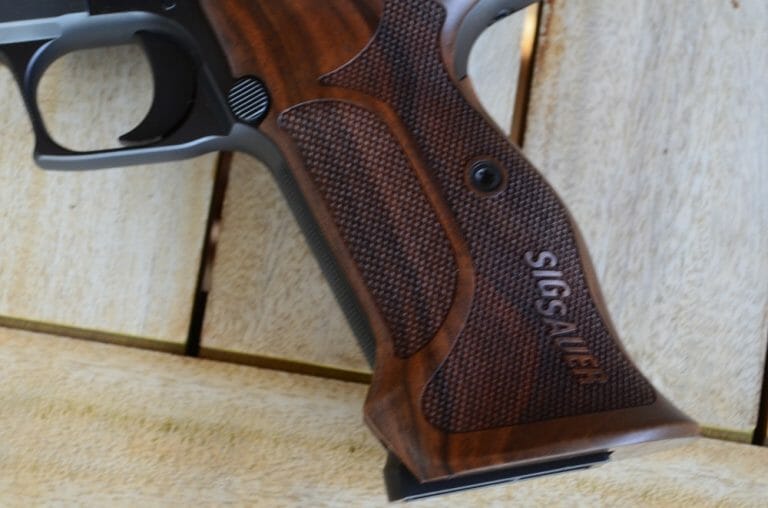 Front and rear cocking serrations adorn the slide. The slide rides inside the frame rails like we have seen on CZ pistols, rather than outside as in the traditional Browning pattern. This allows for a very tight fit between the slide, barrel and frame without compromising reliability and contributes to the unusually high accuracy for which the SIG P210 is known. CZ must have taken their cues from the P210 decades ago on this front.
The pistol sports a 3.5 lb target trigger and is single action only. The whole pistol is made from stainless steel with a Nitron coating.
At the range, the P210-A was a performer in the accuracy department. Whether you want to shoot small clover-leaf type groups or ring steel at 100 yards, this pistol gives you those options.
Literally, you will shoot extremely small one-hole groups with this pistol. It has to be the finest center fire factory pistol that we have seen in decades. Part of this has to do with the excellent sights that SIG installed on this pistol.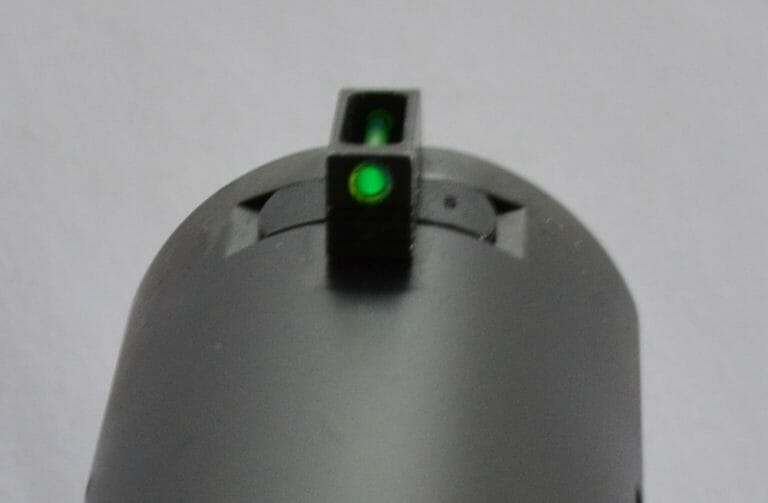 The fiber optic front sight could be bigger, but we were amazed at how well it gathered the light when we shot it outside.
The rear sight is completely adjustable for windage and elevation. If you're a fan of red dots or sights on pistols, you're out of luck without a machining job, here. However, the irons may be what you are looking for if you simply want to become a better natural shooter.
The Good
Besides its accuracy, the second best thing about the SIG P210 is the price.
As the older German made guns and even older Swiss-made P-210s are fetching prices that are close to or exceeding $4000 we like the more realistic pricing on the American made versions at $1699 MSRP, but we have seen them for a few hundred less on some online sites.
We prefer the upgrades that make the purists howl. An improved grip profile by way of a beaver tail, sights and placement of the magazine release bring this classic design into the modern age. The grips are incredibly comfortable, too.
The Bad
We did experience a few failures to fire using CBC 147 grain 9mm during the first 50 rounds we fired. It was typically the third round in each magazine for 4 out of the first 5 magazines. We stripped it down, cleaned it and lubed it. From then on it functioned flawlessly and we switched over to Freedom Munitions 115 grain ammunition. We blame ourselves for being a bit too excited to fire it as soon as we got it without cleaning and lubing it first as we normally do as well as using cheap ammunition that probably did not belong in a target pistol of this nature.
The only real downside to this pistol is that we would have preferred to see the classic version released first. That's the pistol for which we are still waiting. Hopefully, we will see it later this year as well as the concealed carry mode we have been hearing about.
The Reality

SIG's P210-A is a dream to shoot. Gun writer and executive protection specialist Leroy Thompson has famously spoken of its accuracy in the past including the statement that this is the handgun he takes with him to places where he cannot take a rifle.
We recommend field stripping the pistol when you pick one up and cleaning and lubing it before you fire it. Use a quality brand of ammunition while you're at it and you should have a trouble free range session.
Also, try to do a steel session as quickly as you can. Shooting tiny one-whole groups is only half the story with the SIG P210. This pistol gives excellent long range accuracy from a handgun.
With today's choices in handguns being mostly polymer framed, striker-fired pistols, it is refreshing to see a true classic brought back to life for a new generation of shooters that is not a 1911 or a revolver. Not that there is anything wrong with those types of handguns, we still love shooting them, ourselves. We just like seeing real diversity with regard to pistols in today's day and age.
Some folks only buy handguns for concealed carry and personal defense. The P210A Target may not fulfill those roles, but if you want one of the most accurate out of the box center fire target pistols, this may be the one you are looking for.
Factory Specs

Caliber: 9mm
Action Type: SAO
Barrel Length: 4.7?
Overall Length: 8.5?
Overall Height: 5.6?
Overall Width: 1.3?
Weight: 37.4 oz
Capacity: 8 +1
Sights: Adjustable rear, green fiber optic post
MSRP: $1699
---
About Mike Searson: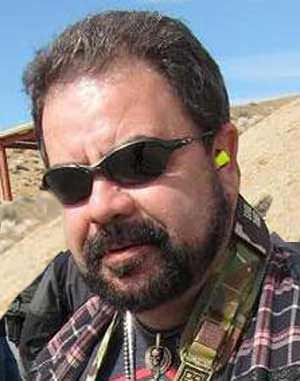 Mike Searson's career as a shooter began as a Marine Rifleman at age 17. He has worked in the firearms industry his entire adult life as a Gunsmith, Ballistician, Consultant, Salesman, Author and was first certified to teach firearms safety in 1989.
Mike has written over 2000 articles for a number of magazines, websites and newsletters including Blade, RECOIL, OFF-GRID, Tactical Officer, SWAT, Tactical World, Gun Digest, Examiner.com and the US Concealed Carry Association as well as AmmoLand Shooting Sports News.