SIG SAUER Electro-Optics is proud to introduce the ROMEO-M17 pistol mounted red dot sight. Developed from the ground up for the U.S. Army's Modular Handgun System to be the ultimate in performance, reliability and durability. The ROMEO-M17 is designed specifically to fit U.S. Military Modular Handgun System M17/M18 pistols, M17/M18 Commemorative Special Editions and M17/M18 Surplus pistols with a single hole in the slide to secure the sight plate. It does not fit standard P320 or commercial P320-M17/M18 slides. Commercial variations of compatible pistols and slides will be available in the coming months.
"The fully sealed ROMEO-M17 is the next revolution in red dot optics; it answers the call to withstand the rigors of the battlefield and works seamlessly with the U.S. Army's Modular Handgun System," said Andy York, President, SIG SAUER Electro-Optics. "The ROMEO-M17 is the first red dot sight to incorporate SIG SAUER's patent pending SIG-LOC mounting system. SIG-LOC (Leveraged Optimized Connection) features a new proprietary bottom-mount technology that has multiple interface features between the pistol slide and the optic that provides for an extremely strong and robust lock-up. This new mounting system, when combined with the side mounted battery on the ROMEO-M17, allows the optic to have an extremely low position when mounted to the slide, giving the user a full sight picture and co-witness with the existing standard-height iron sights. This sight was engineered, tested, and built in Oregon to be the ultimate aiming solution for the MHS pistols."
The SIG SAUER Electro-Optics ROMEO-M17 is a mil-spec, fully enclosed and gas-purged red dot reflex sight with a distortion-free glass aspheric lens, and is submersible to depths up to 35 meters. Other features include a new and very robust flexure-arm adjustment system made of the same Beryllium Copper found in many riflescope designs, and a housing that is forged and machined from 7075 Aluminum with an integrated loaded chamber indicator (LCI) gas deflector and machined anti-reflection grooves on all rear facing surfaces for reduced glare. The optic incorporates a high-efficiency point source red LED emitter, with 2 MOA dot/32 MOA circle reticle, independent brightness adjustment buttons, 15 brightness settings including night vision settings, and a side-mounted CR2032 battery compartment with a threaded battery cap so the optic does not need to be removed from the pistol for battery changes. The ROMEO-M17 has a minimum continuous runtime of 50,000 hours at medium brightness setting, and utilizes MOTAC

(Motion Activated Illumination), MAGNETAC

(Magnetic Activation), and D.A.R.C

(Dark Adaptive Reticles & Coatings) technologies.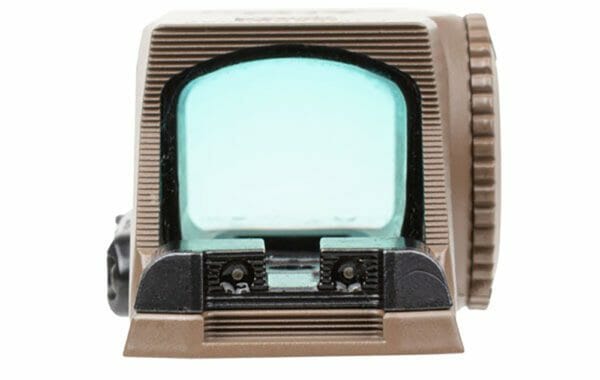 "The ROMEO-M17 is the pinnacle of pistol-mounted red dot optics, and we are immensely proud that it has been tested and selected to receive a NATO Stock Number (NSN) from the U.S. Army so this innovative technology and ruggedized performance is easily attainable and available to our warfighters," concluded York.
The SIG SAUER Electro-Optics ROMEO-M17 is designed, developed, tested and fully assembled in the U.S.A.
ROMEO-M17 Specs:
Objective Lens Diameter: 24mm
Reticle: Circle dot with 2 MOA Red Dot / 32 MOA Circle
Lens Type: Asphere
Brightness Adjustment Settings: 15 (12 Day / 3 Night Vision)
Water Resistance: Submersible to 35 meters (115 feet)
Overall Length: 2.4 inches
Overall Width: 0.9 inches
Overall Height: 1.1 inches
Mounting Footprint: SIG-LOC MHS
Battery Type: CR2032
Battery Location: Side
Weight (w/o battery): 1.5 ounces
For more information about the SIG SAUER Electro-Optics ROMEO-M17 please visit sigauer.com.
---
About SIG SAUER, Inc.
SIG SAUER, Inc. is a leading provider and manufacturer of firearms, electro-optics, ammunition, airguns, suppressors, remote controlled weapons stations, and training. For over 250 years SIG SAUER, Inc. has evolved, and thrived, by blending American ingenuity, German engineering, and Swiss precision. Today, SIG SAUER is synonymous with industry-leading quality and innovation which has made it the brand of choice amongst the U.S. Military, the global defense community, law enforcement, competitive shooters, hunters, and responsible citizens. Additionally, SIG SAUER is the premier provider of elite firearms instruction and tactical training at the SIG SAUER Academy. Headquartered in Newington, New Hampshire, SIG SAUER has over 3,200 employees across twelve locations in three states. For more information about the company and product line visit: sigsauer.com.