Mandeville, LA – -(AmmoLand.com)- Be the very first to hear about the newest Sig Sauer firearm! It launches worldwide on Monday, but Tom has the exclusive this Sunday. Also, the National Shooting Sports Foundation's 'Plus One' movement is a smashing success – Find out how you can get involved. All this and more, this week on Tom Gresham's Gun Talk® Radio, the original nationally-syndicated talk show about guns and the shooting sports.
Sig Sauer's Phil Strader joins Tom this Sunday with a huge announcement – a new gun and a new family of guns for Sig Sauer!
Tune in to find out exactly what innovative product SIG is bringing to the market. Also, check out Gun Talk's YouTube channel on Monday to see the new gun in action: https://www.youtube.com/user/GunTalkTV.
Also talking with Tom this week is Bill Dunn of the National Shooting Sports Foundation, about their success with the 'Plus One' program to get current shooting sports enthusiasts to take new shooters out to the range, out hunting, to a competition, etc. Take the pledge and find out more at https://www.letsgoshooting.org/PlusOneMovement/.
Plus, a new month means a new Gun Talk Giveaway: Sign up for newsletters from Gun Talk and Kimber and earn two entries for a chance to win a Kimber EVO SP Custom Shop, plus access additional entry opportunities for even more chances to win! The Kimber EVO SP Custom Shop was designed in collaboration between Kimber engineers and gunsmiths to provide the ultimate choice for concealed carry. This 9mm uses modern machining techniques, with Stiplex inspired serrations in both the front strap and G10 grips, and upgraded TRUGLO TritiumPro sights. The EVO SP CS ships with two 7 round magazines. The giveaway ends on Friday, September 27th, at 12:00 pm Eastern. Find out more details and enter at www.guntalk.com/win.
As always, call in to 866-TALK-GUN with your comments, questions, and range reports.
---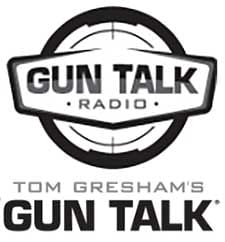 In its 23rd year of national syndication, Tom Gresham's Gun Talk® radio show airs live on Sundays from 2PM-5PM Eastern, and runs on more than 266 stations every week. Listen on a radio station near you (http://bit.ly/GTRstation) or via live streaming (http://bit.ly/GTRstream). All Gun Talk shows can also be downloaded as podcasts at http://bit.ly/GTRpodcast, Apple iTunes, and i-Heart radio, or through one of the available Apps: GunDealio on iPhone, GunDealio on Android, and the Gun Talk App on Stitcher. Gun Talk is also available on YouTube, (http://bit.ly/GTRYT), Roku, Apple TV, Amazon Fire TV, and www.guntalk.com.
("Gun Talk" is a registered trademark.)
The post Sig Sauer Exclusive – This Week on Tom Gresham's Gun Talk appeared first on AmmoLand.com.