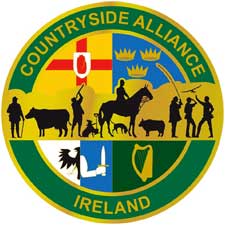 Ireland – -(Ammoland.com)- Our successful Game-to-Eat game marketing campaign has devised "Shot for the Pot", a celebration of game to be held during the last week of October, and the campaign is very proud to announce a series of celebrity game recipes to whet your appetite for the event.
The concept is simple: invite your friends for a lunch or supper, serve game and ask each guest for a donation to the Countryside Alliance. I hope that "Shot for the Pot" will be a national celebration – certainly some pubs are already rising to the challenge and offering pub quiz game evenings and special game dishes on the menu.
I envision shoots, hunts and entire villages coming together to enjoy a seasonal and delicious lunch or supper in honour of a very worthy cause.
We are delighted to offer supporters a selection of game recipes by some top chefs. Michelin-starred Tom Kitchin, Henry Harris, Rachel Green, Valentine Warner, Michelin-starred Mark Hix, Michelin-starred Shaun Rankin, Lee Maycock, Jose Souto and Mark Lloyd have all kindly sent us game recipes to inspire you during Shot for the Pot week. Thanks to all of these busy and talented contributors for their support. Our top chefs are leading the charge for British produce and all are passionate about promoting seasonal, local and welfare-friendly eating. Of course, it won't hurt if you can announce you are feeding your guests a recipe from a Michelin-starred Chef!
We are drip-feeding the recipes over the coming weeks so please keep visiting www.gametoeat.co.uk for the next one. Each recipe has been designed as a downloadable pdf format for you to print out, keep and enjoy for seasons to come.
Currently available we have traditional grouse recipes – Roast Grouse by Henry Harris of Racine and Scottish Grouse with Bread Sauce and Game Chips from Tom Kitchin of The Kitchin, with Rachel Green's Venison Burger with Blue Cheese and Crispy Shallots coming soon. Still to come we have pigeon, venison, teal and pheasant recipes.
Shot for the Pot will take place from 26th October until 2nd November – but I hope you will enjoy plenty of game suppers between now and then.
Barney White-Spunner
Executive Chairman
Game-to-Eat boasts a huge selection of game recipes online here, and we also have many game recipe booklets. If you would like some hard-copy Game-to-Eat recipe booklets please email info@gametoeat.co.uk?
About
Countryside Alliance Ireland has been active since the early 1960s, providing Irish sportsmen and women with high levels of information and advice and representation. Over the years as the political environment has changed we have evolved into a highly effective campaigning organisation. Countryside Alliance Ireland is governed by an elected "Board" made up from members throughout Ireland. The Board sets policy and oversees financial and operational matters. Countryside Alliance Ireland partner groups nominate members of the "Board" also, making it truly representative of country sports interests in Ireland. Visit: www.countrysideallianceireland.org
The post 'Shot For The Pot' Receives Stellar Support appeared first on AmmoLand.com.