Athens, AL – -(AmmoLand.com)- Women ages 16 and older will be afforded the opportunity to shoot inside Shoot Like A Girl's semi tractor-trailer mobile range at Branson Outdoor Days at the Branson Convention Center on Friday, March 22nd and Saturday, March 23rd 9am-5pm! New and experienced shooters are invited to attend this free event.
At the range, women gain experience in handling and shooting handguns, long guns and compound bows using state-of-the-art technology. Inside the mobile range, women are guided through a revolutionary introduction process, called the Test Shots

and Test Flights

by Certified National Rifle Association instructors and archery coaches. Onsite, at the Shoot Like A Girl Gun Counter, attendees can also compare a variety of firearms including revolvers, semi-automatic pistols, shotguns, and rifles from their firearms partners.
Shoot Like A Girl is committed to educating others about the importance of firearm safety. Those who visit the range will learn about safe, responsible gun ownership, the benefits of firearms, and the positive impact shooting sports can have on their individual lives.
It's just the beginning, and already The Great American Tour has been featured in Kentucky, Texas, Tennessee, and Louisiana! And there are many more stops to come!
For sponsorship information or to learn more about SLG2, visit Shoot Like A Girl online, or visit at Facebook and Twitter.
---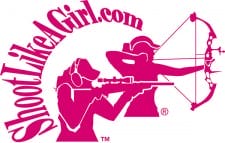 About Shoot Like A Girl:
Shoot Like A Girl is the industry leader in growing the number of women in shooting sports by giving women across the country the experience of shooting a pistol, rifle, and bow in a safe, controlled women-friendly environment, that empowers them with the confidence they can shoot. Please recognize the following Shoot Like A Girl Corporate Partners who enable them to grow the number of women in shooting sports and change lives, one shot at a time:
GLOCK, Cabela's, Ruger, Smith & Wesson, Beretta, Tikka, Charter Arms, Colt, Magpul, Bushnell, Savage, Springfield Armory, Walther, Peltor Sport, Truglo, Lyman, Crossbreed Holsters, Thermacell, Archery 360, Bow Hunting 360, Women's Outdoor News, Freedom Hunters, Mossy Oak, Rocky Mountain Elk Foundation, Beman, Primos, Gold Tip Arrows, Federal Premium Ammunition, Hoppes, Elite Archery and Scott Archery, Mathews, Hoyt, Neet Archery Products, S & S Outdoors, Loyal Dog Food, Record Rack,and Upper Canyon Outfitters.