USA – -(AmmoLand.com)- At a Shoot Like A Girl event, women ages 16 and older will be afforded the opportunity to shoot inside Shoot Like A Girl's semi-tractor trailer mobile range.
Attendees gain experience in handling and shooting handguns, long guns and compound bows using state-of-the-art technology. Inside the mobile range, women are guided through a revolutionary introduction process, called the Test Shots

and Test Flights

by Certified National Rifle Association instructors and archery coaches.
Onsite, at the Shoot Like A Girl Gun Counter, people can also compare a variety of firearms including revolvers, semi-automatic pistols, shotguns, and rifles from Shoot Like A Girl's firearms partners. New and experienced shooters are invited to attend.
Shoot Like A is committed to educating others about the importance in firearm safety. Those who visit the range will learn about safe responsible gun ownership, the benefits of firearms, and the positive influence the participation of shooting sports can have on your life. New and experienced shooters are invited to attend.
Shoot Like A Girl 2019 Great American Tour
January 10-12: Archery Trade Association Show – Louisville, KY
Jan 17 – 20: Dallas Safari Club – Dallas, TX
Feb 2 – 3: Bass Pro Shops – Grapevine, TX
Feb 16 – 17: Bass Pro Shops – Nashville, TN
Feb 28: Private Event – Baton Rouge, LA
Mar 2-3: Bass Pro Shops –Denham Springs, LA
Mar 22-24: Branson Outdoor Days – Branson, MO
Mar 30-31: Bass Pro Shops – Leeds, AL
May 4-5: Cabela's – Green Bay, WI
May 18-19: Cabela's – Owatonna, MN
Jun 22: Cabela's – Lacey, WA
Jun 23: Bass Pro Shops – Tacoma, WA
June 29-30: Cabela's – Boise, ID
Jul 11-14: Rocky Mountain Elk Foundation Elk Camp, Park City, UT
Jul 20-21 : Cabela's – Lehi, UT
Aug 3-4: Cabela's – Wheeling, WV
Aug 15-17: NASCAR – Bristol, TN (Tentative)
Aug 31: Bass Pro Shops – Harrisburg, PA
Sep 1: Cabela's – Hamburg, PA
Sep 7-8: Cabela's – Christiana, DE
Sep 21-22: Bass Pro Shops, Springfield, MO
Oct 5: Cabela's – Thornton, CO
Oct 6: Bass Pro Shops – Denver, CO
Oct 19-20: Cabela's – Mitchell, SD
---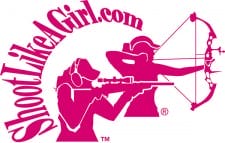 About Shoot Like A Girl
Shoot Like A Girl was established in 2008, and launched in 2019 with a mission to grow the number of women who participate in shooting sports by empowering them with confidence. Since 2008, their impact on the shooting sports industry has totaled over 74 million dollars and continues increase, and well over 18,000 women have participated in the program as of July 31, 2018. www.shootlikeagirl.com