USA – -(AmmoLand.com)- The producers of Top Shot are putting together a team of seasoned snipers and skilled long-range marksmen to co-host a new, unscripted TV series for a major cable network.
On each episode of this exciting, new show, our hosting team will meet a member of the armed forces or law enforcement with an amazing story of marksmanship and attempt to recreate their incredible shot on camera.
If you have the background and ability to recreate impressive, precision shots and the potential to co-host your own TV series, then…
Email TopSniperCasting@gmail.com with your name, phone number, a recent photo and a brief description of your qualifications as a long-range marksman or sniper or fill out the form below.
ELIGIBILITY REQUIREMENTS
You must be at least 18 years of age and a legal resident of the United States to apply for participation.
Potential participant must not be a candidate for public office and must agree not to become one from the date his or her application is submitted to Producers until one (1) year after the initial broadcast of the Program.
If you are selected as a potential participant, you will be required to execute waivers and release agreements required by Producer and Network or any of their licensees, successors or assigns.
Potential participant may be required, and must agree, to undergo background checks and/or physical, medical and psychological examinations and additional testing. Participant must be willing to submit medical information to Producer and submit to a medical examination, psychological examination, and background check.
Potential participant must be in reasonably good physical condition and proficient in precision and long-range marksmanship.
Potential participants must be available to travel to Los Angeles (at Producer's expense) for in-person, on-camera casting interviews and testing June 8 – 12, 2019.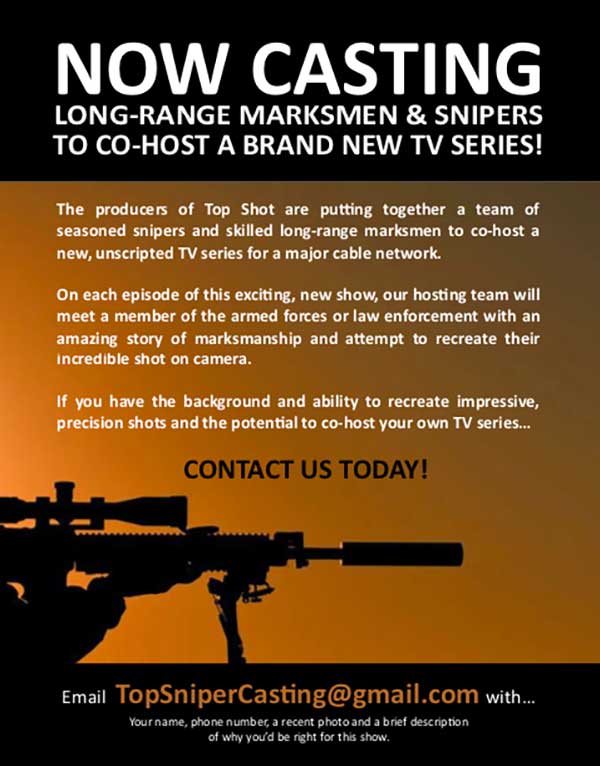 ---
About Pilgrim Media Group
Pilgrim Media Group has produced a ton of great programming for a bunch of awesome networks, including Discovery, History, A&E, Lifetime, TLC, Syfy, OWN, CMT, WEtv, and National Geographic Channel. From concept development to network delivery, we do it all. www.pilgrimmediagroup.com