Versatile racer confirms 2018 SCORE International campaign.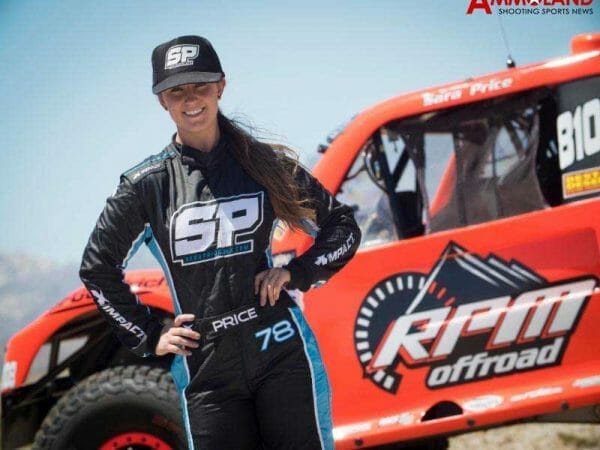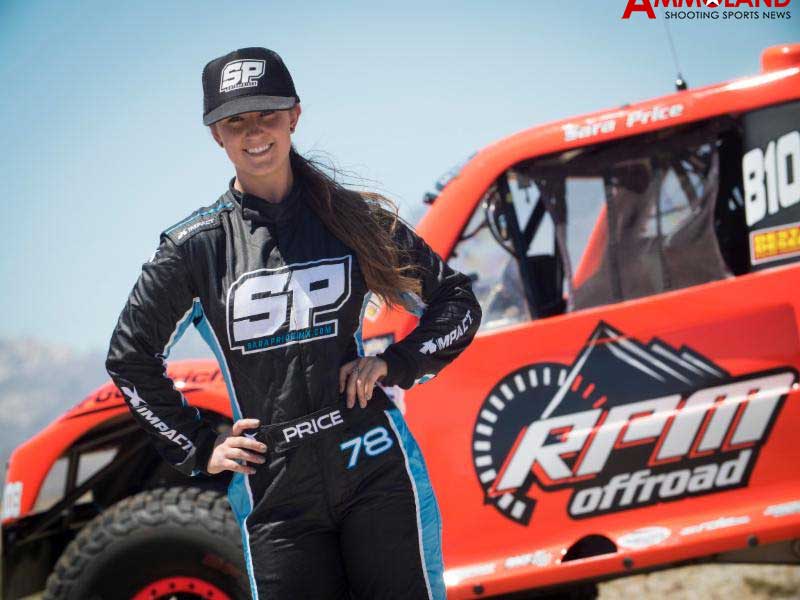 LAKE ELSINORE, California – -(Ammoland.com)- Motocross and UTV champion Sara Price will join Team RPM Offroad this season for a full campaign on the SCORE International desert racing series.
She will race the Trophy Truck Spec class at the 2018 San Filipe 250, the Baja 500, the Tijuana Desert Challenge, and the Baja 1000.
"We've seen Sara's talent in testing and competition and we're excited to have her onboard for a full season in 2018. We think she's going to be a valuable asset to the team," said RPM Offroad's Justin Matney. "At RPM, we're committed to driver development. We've seen great success bringing in young drivers like Apdaly Lopez and Lalo Laguna, and Sara is a great fit."
Since 2006, Team RPM has collected championships and race wins in series including SCORE and Best in the Desert. Team principals Clyde Stacy and Matney have captured 11 SCORE season class point titles between them as key drivers.
"Racing for RPM for a whole season is a dream come true," said Price. "The team's results speaks for themselves and it's a very special organization that makes me feel like I'm with family. I'm incredibly grateful for the support of Clyde, Justin and the whole team."
The team scored an historic win in 2017 at the 50th anniversary Baja 1000 with Mexican driver Carlos "Apdaly" Lopez. He also won the SCORE International Trophy Truck championship in 2015 and 2016. The team earned their first Baja 1000 Class 1 victory in 2014.
Price is a rare female driver in off-road racing and she said she plans to bring her determination and tenacity to this latest challenge. She has previously raced professionally in motocross and UTV competition.
"You look across the board at all sports and you see women really starting to shine," said Matney. "In our own community we have our mothers and aunts and everybody really excited to have Sara join the team."
Trophy Truck Spec is a regulated class that showcases driver talent above all else. The vehicles are equally matched, with rules specifying engine, suspension and wheel and tire size. Before getting in the truck to compete, Price expects to put her championship winning UTV skills to the test with extensive pre-running of the off-road courses. She will be joined by longtime co-driver Erica Sacks.
RPM Offroad is slated to field six official entries for the upcoming SCORE San Felipe 250. The 315-mile race runs April 4 through 8 and starts and ends on the Malecon beach in San Felipe on the Sea of Cortez, some 125 miles south of the U.S. border. Price is joined on the team by drivers Clyde Stacy/Armin Schwartz, Justin Matney, Carlos 'Apdaly' Lopez, Derek Fletcher and Juan C. Lopez.
Price also expects to add competition dates to her schedule as opportunities arise. She opened the season at King of the Hammers in the UTV category. Her adventures all season will be extensively documented on her social channels.
In 2017, Price's calendar included a diverse array of events including a select series of off-road races for RPM Offroad in both Trophy Truck and Trophy Truck Spec classes in the Best In The Desert series, with a best finish of sixth. She also won the Next Female Hoonigan contest to earn a chance to drive a factory backed Fiat Rally Car in a pair of hill climbs, seizing second-place result at the San Pedro Martir Hill Climb in Mexico.
Named the 2016 Off-Road Motorsports Hall of Fame Rising Star, Price's racing career started on dirt and she went on to join Kawasaki as the first factory-supported female racer.
She started racing dirtbikes at the age of eight and collected 19 amateur titles and medaled in Women's Super X at the 2010 X Games. She holds the record as the most winning female amateur to date.
The versatile competitor also raced UTVs and in 2013 campaigned the WORCS series. She moved on to the Lucas Oil Regional Series in 2015 to grab second-place overall in the production side-by-side championship. She finished the Terracross Championship undefeated to take the women's title that same year.
When she isn't racing, Price works as a stunt professional, performing on motorcycles, and on four wheels and as a precision driver for television and film.
About RPM Offroad
Established in 2006, RPM Offroad is located in Bristol, Tennessee. Its mission is to provide excellent service, support and product knowledge to customers while maintaining competitive pricing. RPM Offroad offers a wide selection of diesel, gas and off-road performance accessories. Many of the products they sell are not only tested in the most extreme conditions in the desert and also in their backyard of the Great Smokey Mountains. The RPM Offroad motorsport team is co-owned by Justin Matney and Clyde Stacy, and operated with the support of Phoenix, Arizona, based Geiser Bros Design and Development.
About SCORE International
SCORE International sanctions a series of desert races in Mexico on the Baja California Peninsula. The 2018 season includes the 2018 San Filipe 250, the Baja 500, the Tijuana Desert Challenge, and the Baja 1000. Founded by Mickey Thompson in 1973, SCORE International continues today under the current presidency of Roger Norman, who purchased the rights from Sal Fish in 2012.
Sara Price is Supported By
RPM Offroad, Super ATV, K&N Filters, Slime, Polaris, Hoonigan Industries and Impact Racing.
More:
www.SaraPriceMX.com