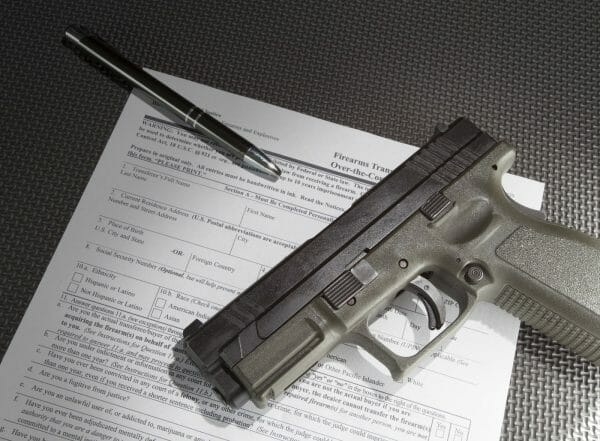 U.S.A. — The Second Amendment Foundation has filed a federal lawsuit challenging California's 10-day waiting period on firearms transfers, contending the wait violates the Second Amendment.
The 22-page federal complaint was filed in U.S. District Court for the Southern District of California. The plaintiffs are asking for declaratory and injunctive relief.
SAF is joined by the North County Shooting Center, San Diego County Gun Owners PAC, California Gun Rights Foundation, Firearms Policy Coalition, PWGG LLP, John Phillips, Alisha Curtin, Dakota Adelphia, Michael Schwartz, Darin Prince and Claire Richards. They are represented by attorneys Bradley A. Benbrook and Stephen M. Duvernay at Benbrook Law Group in Sacramento. Defendants are Attorney General Rob Bonta and Allison Mendoza, director of the California Department of Justice, Bureau of Firearms, in their official capacities. The case is known as Richards v. Bonta.
"Defendants' enforcement of the Waiting Period Laws prevents law-abiding people from taking possession of lawfully acquired firearms for immediate self-defense and other lawful purposes," the lawsuit alleges, "even after Defendants know the individual is eligible to exercise their fundamental, constitutionally protected right to keep and bear arms. This relegates the right to keep and bear arms to second-class status."
"A right delayed is a right denied," said SAF founder and Executive Vice President Alan M. Gottlieb. "There is nothing in the Second Amendment about waiting more than a week in order to exercise the right to keep and bear arms. California's waiting period relegates the Second Amendment to the status of a government-regulated privilege, in direct conflict to the U.S. Supreme Court, which declared in its 2008 Heller ruling that the Second Amendment is not a second-class right, subject to an entirely different body of rules than the other Bill of Rights guarantees."
As noted in the lawsuit, SAF and its lawsuit partners "bring this litigation to vindicate their rights on a simple premise: The State may not prevent a law-abiding person from taking possession of an arm after it confirms, using readily available electronic databases, that the person is not prohibited from possessing firearms.
"Put differently," the complaint continues, "if the Defendants query federal and state databases and return no records showing that an applicant is prohibited from possessing arms, and have no other evidence that they are disqualified from exercising their rights, they must allow a dealer to transfer possession of the arm without further delay."
SAF Executive Director Adam Kraut noted the Golden State's waiting period restriction "isn't analogous to any constitutionally relevant history and tradition of regulating firearms."
"Where this really gets silly," observed Kraut, who is a practicing attorney, "is when the waiting period restriction even applies to a gun buyer who already owns other firearms. Not to mention, those who are looking to acquire a firearm for protection immediately do not have the luxury of waiting ten days. Long story short, the state's ten-day waiting period must be declared unconstitutional and enjoined, which is the purpose of our lawsuit. We're asking the court for injunctive and declaratory relief."
By no small coincidence, Washington Gov. Jay Inslee recently signed legislation creating a 10-day waiting period for all firearms transfers. House Bill 1143 was one of a trio of gun control measures he signed late last month. It is scheduled to take effect Jan. 1, 2024, but there is a caveat: "If specific funding for the purposes of this act, referencing this act by bill or chapter number, is not provided by June 30, 2023, in the omnibus appropriations act, this act is null and void."
Whether this lawsuit sends a signal to Washington State remains to be seen.
Back in California, "There's a Fourteenth Amendment aspect to this case," Gottlieb added.
"The state broadly discriminates against average citizens by allowing exemptions to nearly two-dozen categories of favored individuals who can take possession of firearms without having to endure the delay, which violates the Equal Protection clause," he said. "We're hoping to bring this practice to an end."
As explained in the lawsuit, "This case is thus also brought on the premise that Defendants' enforcement of California law violates the Equal Protection Clause by discriminating among its citizens in their exercise of the fundamental right to keep and bear arms."
Elsewhere, the federal complaint observes, "If firearms and ammunition could be purchased online in California like other constitutionally protected artifacts, such as paper, pens, ink, and technology products that facilitate speech, then individuals could simply purchase what they need and have the items delivered to their doorsteps. But people in California cannot exercise their Second Amendment right to keep and bear arms without going in person to federally and state-licensed firearm dealers and ammunition vendors that must comply with the State's regulatory scheme on pain of criminal liability and loss of their license to do business."
The lawsuit is seeking the following:
A declaratory judgment that Defendants' enforcement of California's Waiting Period Laws after such time that the Defendants timely confirm a firearm transferee is not prohibited from possessing firearms violates the right to keep and bear arms protected under the Second and Fourteenth Amendments to the United States Constitution;
A declaratory judgment that Defendants' enforcement of California's Waiting Period Laws to typical law-abiding individuals, while also failing to enforce those same Waiting Period Laws against the classes favored by the statutory exceptions to them, violates the right to equal protection of the law secured by the Fourteenth Amendment to the United States Constitution;
A preliminary and permanent injunction restraining Defendants, their officers, agents, servants, employees, and attorneys, and those persons in active concert or participation with them, and those who gain knowledge of the injunction order or know of the existence of the injunction order, from implementing or enforcing California's Waiting Period Laws after such time that the Defendants timely confirm a firearm transferee is not prohibited from possessing firearms.
---
About Dave Workman
Dave Workman is a senior editor at TheGunMag.com and Liberty Park Press, author of multiple books on the Right to Keep & Bear Arms, and formerly an NRA-certified firearms instructor.