U.S.A. –-(Ammoland.com)- Rosco Manufacturing, an American manufacturer of high-quality gun barrels & accessories, is proud to announce the launching of their newly released products – the Purebred upper receivers, Purebred M-Lok handguards, Purebred 13.7" barrel and Bloodline 12.5" Bloodline barrel. In the never-ending pursuit to expand their list of quality products offered, Rosco has brought their new line of Purebred accessories to the market, including a line of upper receivers and M-Lok rails jointly designed for the barrel maker by industry leading artisans, American Defense Mfg.
The new Rosco designed upper and M-Lok rails feature precision machining from 7075/ 6061 aluminum billet blanks, type 3 hard-coat anodizing and tightened tolerances to enhance the performance/ fitment of the Bloodline & Purebred barrels. Current versions of the rails offered is the 9" M-Lok handguard with the 13.5" and 15" versions coming out soon. Rosco is also gearing up to start producing "turn-key" complete Match upper receiver groups which will be custom built for extreme accuracy.
With the launching of the new Purebred accessories series the barrel maker has also launched two new barrels at the immediate request of their customer base. The new barrels are the 13.7" Purebred and 12.5" Bloodline. The 13.7" Purebred is a .223 Wylde chambered 416R stainless steel Mid-length gas barrel that features the same details that has made the Purebred series such a great performing match barrel. The 12.5" Bloodline is a 5.56 chambered 4150 CMV Carbine length gas barrel that is Electro bore polished post Salt Bath Nitriding. The bore polish adds the finishing touches that make the melonite treated Bloodlines such accurate and duty capable barrels.
12.5" Bloodline is a 5.56 chambered 4150 CMV Carbine length gas barrel that is Electro bore polished post Salt Bath Nitriding

"With the release of our new accessories & barrels, we have been able to provide customers with the products that they have been requesting from us for some time. This is our true test as a REAL commercial manufacturer, to be able to intake consumer need and turn that into products that will truly benefit our customers. It is our strong belief that this is one of the pillars of creating a strong brand that is consumer focused." – Gabriel Cabrera (Marketing/ Sales Director).
Effective immediately, the following Rosco products are live and for sale:
For more information on Rosco Manufacturing and our products go to www.RoscoManufacturing.com
---
About Rosco Manufacturing: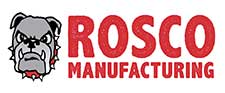 Rosco Manufacturing is an American manufacturer of hard-use & precision rifle barrels. Our production facility in Central Falls, RI has over 50,000 square feet of production space with room for high volume capacity. Rosco supplies major gun manufacturers (the world over) with high quality products. Through superior workmanship and unprecedented engineering, our product line continues to exceed expectations and provides a complete solution for the consumer and OEM.