U.S.A. –-(Ammoland.com)- My go-to shop for custom Cerakoting is Critical Koating which is part of the Sterling Arsenal brand in Sterling, VA. They do an amazing job at firearm customization. I had them redo an old Italian police trade in 92s Beretta, and it turned out perfect compared to what it looked like before being transformed by Critical Koating. I will be writing about this gun and the guys at Critical Koating in the near future.
I just recently completed a new AR15 build using an Anderson lower receiver, CMG two stage flat trigger, American Built Arms bolt carrier group, Mission First Tactical stock, and a CBC barreled upper receiver. After I built the gun, I decided I wanted to get my new rifle Cerakoted. I was going to take it to Critical Koating, but my friend has been telling me about a place called Rocktown Tactical in Harrisonburg, Virginia. He has been insisting I try them out, but I live in Northern Virginia which means the distance to Harrisonburg is usually too far for me to drive.
Rocktown Tactical did a Star Wars themed AR15 and pistol for him that turned out phenomenal. I decided I wanted to see what they had to offer since I was already in Harrisonburg with my new rifle. I contacted them and asked them what the turnaround time would be for doing up a full rifle. Their answer was two weeks depending out what I wanted them to do to the gun.
The time frame worked for me since I would be heading back down that way again, so I decided to move forward with the project and let them paint my AR15. The thing is that I wasn't sure what I wanted Rocktown Tactical to do with the rifle. I had a few ideas in my head, but none were jumping out at me. I decided to treat it like a review gun and just said, " just impress me."
I left the rifle in their capable hands and headed home after a long weekend with friends. That night I got a call from the guys at Rocktown Tactical to approve a "burnt bronze" design for the rifle. They sent me over a couple of pictures of how the burnt bronze was going to turn out, so I could make an informed decision on if I wanted that theme on my rifle. The pictures did give me a good idea of what it was going to look like, so I quickly agreed to the design.
A week later I got a call from Rocktown Tactical saying that my rifle was ready for pickup. They sent me over a few pictures of the finished product to make sure I approved of the gun, so they could make any requested changes before my upcoming trip to Harrisonburg. From the pictures, it looked great, but sometimes pictures can be deceiving so I wasn't totally sold.
I couldn't wait to get the rifle in my hands to see how it turned out in person. A couple of days later I went back down to Harrisonburg and picked up my firearm from Rocktown Tactical. I was curious to see if the rifle looked as good in person as it did in the pictures that they sent me.
One thing I would like to note is that the guys over at Rocktown Tactical wanted to make sure I was completely satisfied with the rifle every step of the way in the process. They would send me pictures as the painting went along. I found this method helpful in understanding their vision for my gun. It would also make it easy to request any changes to the gun although I did not request any changes.
I want to stress that I never mentioned I was going to write about the Cerakoting of the rifle. In fact, I didn't know I was going to write about it at the time I had it painted. I never even said that I was a firearms writer. I made sure my friend didn't tell them about my writing. When people find out that I write they always request I write about them. So, as far as I know, Rocktown Tactical didn't know that I write for Ammoland, or at least they didn't say anything to me about it.
They seemed like they just wanted to make sure I was happy with the rifle. Their customer service was excellent. They were willing to change anything that I was unhappy about and stressed that it would not offend them if I asked for something to be modified on the gun. I loved the "customer first" attitude of the guys at Rocktown Tactical.
Lucky for me, since Harrisonburg is a couple hours away from my home, I was more than happy with the finished product. The craftsmanship of the Cerakoting by guys at Rocktown Tactical blew me away. The burnt bronze gave the rifle a really cool distressed look. It almost had a certain patina to it. If I had to give it a name; I would call it a modified battle worn design. It added a lot of character to my "black" rifle.
One of the cool things about the project is all the details that went into the rifle. I didn't expect Rocktown Tactical to Cerakote the POF charging handle of my AR15, but they did. Rocktown Tactical also painted up a Bravo Company foregrip which surprised me when I picked it up.
The paint was also uniform throughout the whole gun and accessories. If I didn't know any better, I would think that Rocktown Tactical painted the rifle and accessories as one piece. They did break down the gun to paint it, but lines flowed from one part to another. It was just fantastic work by skilled painters.
The one thing I wish I would have done that would have put the build over the top is to get a magazine Cerakoted to match the rest of the rifle. I still might have Rocktown Tactical do a magazine for me, but I am still up in the air about it.
I paid Rocktown Tactical $375 for the complete two-tone paint job. The price also included them breaking down the rifle. I could have saved some money by having them paint it before I assembled the gun, but I already built it by the time I decided to have them Cerakote the firearm. I didn't feel like going through the process of disassembling the rifle myself so I just had them work it into the price.
Rocktown Tactical did a hell of a job on the rifle. The lines are flawless, and it really captures the essence of the rifle. I love the fact that it isn't just another "black" gun. To me, it is a one of a kind work of art. I would get the guys over at Rocktown Tactical to Cerakote a rifle any day of the week.
You can find Rocktown Tactical here.
---
About John Crump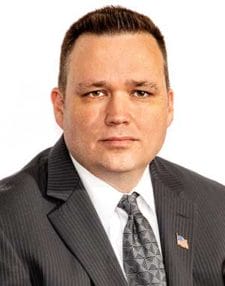 John is a NRA instructor and a constitutional activist. He is the former CEO of Veritas Firearms, LLC and is the co-host of The Patriot News Podcast which can be found at www.blogtalkradio.com/patriotnews. John has written extensively on the patriot movement including 3%'ers, Oath Keepers, and Militias. In addition to the Patriot movement, John has written about firearms, interviewed people of all walks of life, and on the Constitution. John lives in Northern Virginia with his wife and sons and is currently working on a book on the history of the patriot movement and can be followed on Twitter at @crumpyss or at www.crumpy.com.