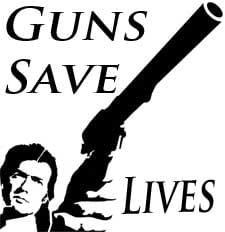 USA –-(Ammoland.com)- Somewhere, everyday in the USA, 2100+ people use a gun for self defense, to stop a crime or save the lives of themselves or their family.
"We believe that the American public deserve to understand that on the average, guns save 2,191 lives and are used to thwart crimes every day," says Alan Gottlieb of the Second Amendment Foundation
Most times you won't see these tales on the news as it does not fit the main stream media's story line of "Guns and Gun Owners are Bad".
This is just one of those stories;
AUCONDA, Ill. (WLS) —
The Lake County Medical Examiner has identified the armed robber shot and killed by a convenience store clerk in Wauconda as Justin Greenenwald, 30, of Ingleside, Ill.

Lake County Coroner Thomas Rudd said Greenenwald was shot four times as he attempted to rob the Kwick Shop in Wauconda. Police say Greenenwald, wearing a mask, entered the store with a firearm drawn, pointed it at the clerk and a customer and demanded money. The 24-year-old clerk, police say, retrieved a gun hidden behind the counter as the customer fled and fired, fatally wounding Greenenwald.

Rudd said Greenenwald was armed with an air gun.

Police arrived shortly after, responding to a 911 call about a robbery in progress. Greenenwald was taken to Good Shepherd Hospital in Barrington, Ill., and pronounced dead around 9:40 p.m.

Public records show Greenenwald was convicted of armed robbery in 2011 and sentenced to nine years in prison; police say he was on parole when he attempted to rob the Kiwck Shop. Public Records also show previous convictions for armed robbery, drug offenses and theftin Lake and McHenry counties.

Wauconda police are investigating the incident.
About the Guns Save Lives Series:
Every few days AmmoLand Shooting Sports News will be featuring a new report of stories involving self defense with a hand gun. Be sure and share, like and Tweet these posts and help spread the truth that "Guns Save Lives". See more at www.AmmoLand.com ( http://tiny.cc/s6ef2w )
The post Robber Armed with Airgun Shot Dead by Store Clerk with Real Gun appeared first on AmmoLand.com.