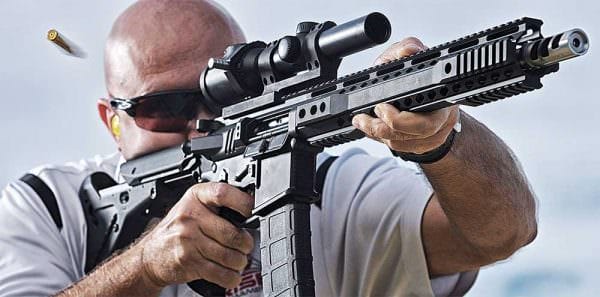 Broken Arrow, Oklahoma –-(Ammoland.com)- RISE Armament, a premier manufacturer and supplier of AR components and firearms, is pleased to announce their title sponsorship of the third-annual RISE Armament 2Gun Series. This event, which includes rifles and pistols, is held at The Range in St. Louis, Missouri, and spans from April to December.
The Rise Armament 2Gun Series will consist of a set of eight matches with three or more stages at each match. Competitors will receive points based on their finishes at each match. Each shooters' top five matches will be added together for the end-of-series standings. First, second, and third places will receive trophies for their success. In addition, the top eight shooters overall in points will qualify to compete in the shoot-off match, which will consist of one stage with double elimination until there is one overall winner.
"The RISE Armament 2Gun Series is a unique and exciting competition that we're happy to be a part of," stated Matt Torres, president of RISE Armament. "In just three years, this event has rapidly grown into one of the most popular in its region."
Each match quickly sells out, and more than 60 shooters have competed in the series. Over $10,000 in prizes were given out during the RISE Armament 2Gun Series in 2018, and this season is slated to surpass it.
The series kicks off on April 11 and will continue with monthly matches until the series concludes with the shoot-off in December. Rules and additional details are available on The Range's site, and competitors can view open registration dates on Praciscore.
RISE Armament specializes in the design and manufacturing of AR rifles, triggers, barrels, handguards, and compensators for civilian, military, and law enforcement uses. For more information about RISE Armament products, visit www.risearmament.com.
---
About RISE Armament:
RISE Armament redefined shooters' standards with the introduction of its RA-535 Advanced-Performance Trigger in 2014. Today, the company continues to innovate through its lines of triggers, handguards, barrels, receivers, small AR parts, and complete rifles, which it designs and manufactures in Broken Arrow, Oklahoma. RISE and its employees are committed to providing reliable products that unleash shooters' potential and elevate the shooting experience. The RISE Armament team is fueled by a mission to make a lasting difference and strives to continually improve RISE products and our world. For more information about the company, visit www.risearmament.com.