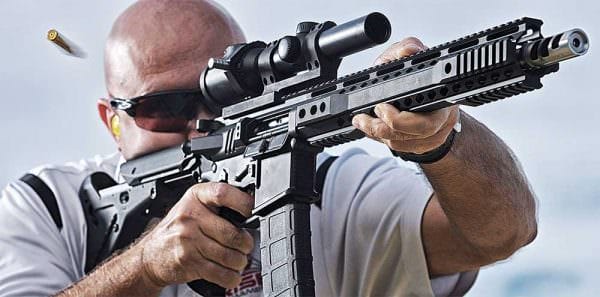 Broken Arrow, Oklahoma –-(Ammoland.com)- RISE Armament, a premier manufacturer and supplier of AR components and firearms, is proud to partner with Strategic Match Design (SMD) for the 2019 competitive shooting season.
SMD is coordinating and running more than 20 single-gun and multi-gun matches throughout the country in 2019. RISE Armament is supporting every competition through a gold sponsorship. Many of these matches will be a multi-day format and will attract top-level shooters from across the country. The matches include the Noveske Carbine Series, Wyoming Magpul Governor's Match, and the DC Project Match.
"Strategic Match Design puts on great matches, and we're happy to support competition shooting in part through our partnership with them," said Matt Torres, president of RISE Armament.
RISE Armament is also the title sponsor of the RISE Armament Carbine and Multi-Gun Series at the Virginia International Raceway, hosted by SMD. The unique facility boasts several large bays and a professional-grade dynamic shoot house, as well as on-road and off-road racing, go-karting, lodging, and dining.
The RISE Armament Carbine and Multi-Gun Series matches will run from March until December and will feature five to six stages, with a match fee of $35. More information regarding the specific dates of each event and registration can be found at https://strategicmatchdesign.com/rise-at-vir/.
SMD is comprised of practical shooting professionals with more than 30 years of combined experience in USPSA, IPSC, falling steel and multi-gun, 3-gun, and 2-gun competitive shooting events in the United States and overseas.
RISE Armament specializes in the design and manufacturing of AR-15s, receivers, triggers, barrels and compensators for civilian, military, and law enforcement uses. For more information about RISE Armament products, visit www.risearmament.com.
---
About RISE Armament:
RISE Armament redefined shooters' standards with the introduction of its RA-535 Advanced-Performance Trigger in 2014. Today, the company continues to innovate through its lines of triggers, handguards, barrels, receivers, small AR parts, and complete rifles, which it designs and manufactures in Broken Arrow, Oklahoma. RISE and its employees are committed to providing reliable products that unleash shooters' potential and elevate the shooting experience. The RISE Armament team is fueled by a mission to make a lasting difference and strives to continually improve RISE products and our world. For more information about the company, visit www.risearmament.com.