Retired Federal Agent Fights Off Robber, KHOU, Houston, Texas 09/16/13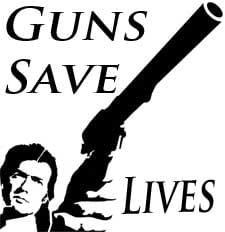 USA –-(Ammoland.com)- Somewhere, everyday in the USA, 2100+ people use a gun for self defense, to stop a crime or save the lives of themselves or their family.
"We believe that the American public deserve to understand that on the average, guns save 2,191 lives and are used to thwart crimes every day," says Alan Gottlieb of the Second Amendment Foundation
Most times you won't see these tales on the news as it does not fit the main stream media's story line of "Guns and Gun Owners are Bad".
This is just one of those stories;
"A family was returning home from a funeral when a masked and armed robber approached them in the driveway of one of their houses in Harris County, Texas and demanded cash."

"The brother-in-law of the homeowner, a retired federal agent, responded to the threat by drawing a gun and firing at the thief, striking him twice and causing him to flee. The robber was captured a short time later after seeking treatment at a nearby hospital."

"The retired agent's actions seem to have inspired at least one of his brother-in-law's neighbors who told a local media outlet, "I might start taking gun classes for protection." Investigators believe the thief may have been involved in other robberies earlier in the evening. (KHOU, Houston, Texas 09/16/13)"
About the Guns Save Lives Series:
Every few days AmmoLand Shooting Sports News will be featuring a new video clip of stories involving self defense with a hand gun. Be sure and share, like and Tweet these posts and help spread the truth that "Guns Save Lives". See more at www.AmmoLand.com ( http://tiny.cc/s6ef2w )
The post Retired Federal Agent Fights Off Robber, Houston, Texas appeared first on AmmoLand.com.