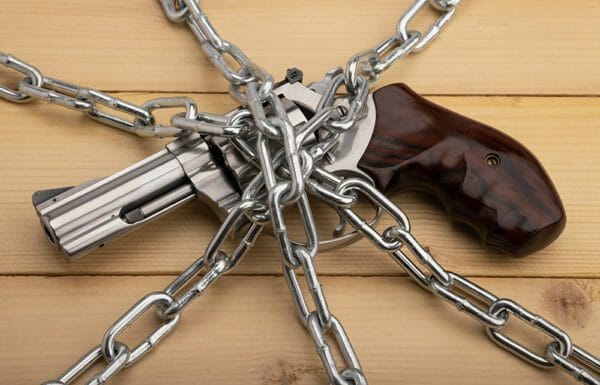 Sen. Jason Brodeur (R-Lake Mary, FL) doesn't like the First Amendment. He wants anyone who writes an opinion piece—where they are compensated for their work about the Governor, Lt. Governor, or any Legislator—to register with the State within five days of the work being published. Those who do not register can be fined daily.
Of course, being compensated for one's work doesn't just refer to monetary payment; it can also refer to any type of recompense. For example, if you're a blogger who wrote an opinion piece or vlogged about a lawmaker, and your blog/YouTube channel is sponsored by a local gun shop by means of a free case of ammo every month, you'd be targeted because Sen. Brodeur considers that to be a form of payment.
That's what Senate Bill 1316 does. Among other things, the bill will "require[e] bloggers to register with the Office of Legislative Services or the Commission on Ethics, as applicable, within a specified timeframe."
I'm sorry, but last I checked, this is the United States of America. We are not in the Republic of Cuba, the Communist hellscape that lies 90 miles south of Florida.
The idea—that anyone who expresses any political thought piece, and is compensated for their work, should report their works to the state or be punished—is completely antithetical to the reasons why our nation was founded.
I would expect this to be proposed by dictators like Cuba's Miguel Díaz-Canel, Venezuela's Nicolás Maduro, Russia's Vladimir Putin, China's Xi Jinping, or North Korea's Kim Jong-un. But, to see a Florida Republican propose such legislation is sickening.
Worse though, this isn't something completely shocking regarding Sen. Brodeur. Back in 2018, when he was a State Representative, he voted in favor of the Parkland Gun Control bill.
He had no problem stripping lawful Floridians of their Second Amendment and Fourth Amendment rights. He voted in favor of stripping any young adult under the age of twenty-one from legally purchasing a firearm. He voted in favor of Red Flag laws—which are gun confiscation orders that strip people of their Second Amendment rights, while trampling upon their Fourth and Fifth Amendment rights, as well. He also voted in favor of a mandatory three-day waiting period.
As I've always said, the way a lawmaker treats the Second Amendment is a barometer that measures how he or she will treat your other inalienable rights.
Sen. Brodeur, your bill is anti-freedom, and I am purposefully influencing the public to let them know where you stand as a lawmaker. As a Cuban-American, I find your legislation to be insulting.
---
About Luis Valdes
Luis Valdes is the Florida State Director and the Director of Outreach for Puerto Rico & US Virgin Islands for Gun Owners of America. A life-long advocate of freedom and a firearms shooter, hunter, competitor, and collector. Luis is the first of his family born in the United States of Cuban Immigrants who fled Communism and who's family saw firsthand what gun control truly results in.