USA – -(AmmoLand.com)- ATF ruled that pistol braces are defacto stocks, turning millions of guns into unregistered SBRs overnight.[Deadline for amnesty is May 31st, 2023] For shooters who don't want to register their pistols, they can either replace their short AR-15 barrels with 16-inch models or pin and weld a muzzle device to bring it's length up to 16 inches.
This article is all about AR-15 barrels and how their length affects how the ATF classifies them under the new ruling. The recent ruling by the Bureau of Alcohol, Tobacco, Firearms, and Explosives (ATF) regarding pistol braces is inarguably detrimental to the Second Amendment and America as a whole. Millions of law-abiding American gun owners have been turned into potential criminals overnight with the stroke of a pen. To make things worse, this new ruling was made contrary to prior statements from the ATF, against the will of the people, without a vote, and at the eleventh hour.
What is the Shortest Legal Rifle Barrel?
Americans in possession of a braced pistol with a barrel under 16 inches are now in possession of an unregistered short-barreled rifle or SBR – which is a federal crime. Pending legal actions or a correction by Congress, these Americans have a few options to comply with the new ruling. In my previous article, we touched on replacing the brace on your AR15 Rifle with a gun stock and registering said rifle through the ATF's 120-day amnesty program.
What about shooters who live in states where short barrel rifles (for example, pistols with AR-15 barrels measuring less than 16 inches) or SBRs are illegal? Or, for that matter, those who don't want to register their guns? For them, there are basically two options.
Option 1: Install a 16-inch or Longer AR 15 Barrel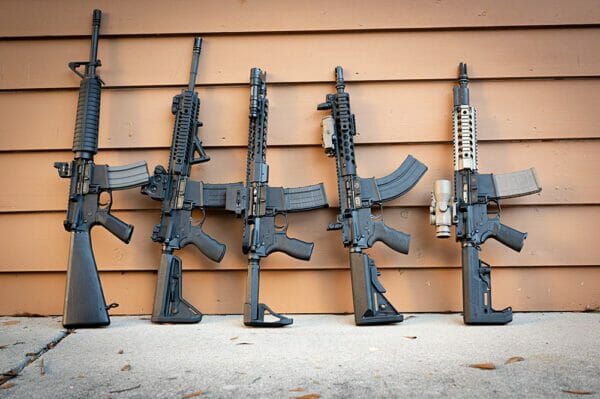 In the United States, firearms are regulated by the National Firearms Act (NFA), which defines a short-barreled rifle (SBR) as a rifle with the shortest legal barrel being less than 16 inches or an overall complete length of fewer than 26 inches. SBRs are subject to additional regulations, including a tax stamp and background check, and are more restricted than other firearms. While it's true that the ATF is waving the $200 tax stamp fee (despite having no authority to do so), the additional background part and gun registration are 'unappealing' to most shooters, to say the least.
One option for these individuals is to swap out their AR-15 rifle barrel for one that measures 16 inches or longer. Thankfully, this isn't very difficult and only requires a few tools – plus, there are dozens of quality barrels on the market today in a variety of configurations, calibers, and price points.
To install a 16-inch barrel on an AR-15 rifle, you will need to follow these steps:
Gather tools and parts: You will need a vise, an AR-15 vice block, an armorer's wrench, a torque wrench, a headspace gauge, a barrel nut, and a gas block.
Remove the old barrel: Use an armorer's wrench to loosen and remove the old barrel from the receiver. Be careful not to damage the receiver or the barrel extension during this step.
Install new barrel nut: Slide the new barrel nut onto the barrel extension and tighten it using an armorer's wrench and torque wrench to the manufacturer's specifications.
Install gas block: Place the gas block onto the barrel and secure it with set screws or a retaining pin, depending on the design of the gas block.
Assemble upper receiver: Slide the barrel and gas block into the upper receiver and tighten the barrel nut using an armorer's wrench.
Check headspace: Use a headspace gauge to check the distance between the bolt face and the barrel, ensuring that it falls within the proper specifications.
Test fire: Once the barrel is securely installed, test fire the rifle to ensure proper functioning and accuracy.
Note: You may need a different ar-15 rifle handguard as well if your current gun doesn't use a free-floated handguard. Old-school polymer handguards use handguard retainers, AKA delta rings, at the front and rear of the barrel to hold them on the barrel.
If the thought of doing this yourself makes you nervous, any gunsmith can do this for you, but their services will likely cost more than the tools required to DIY, and the turnaround time will be much greater.
Here are a few popular 16″ AR-15 barrels for use on an AR-15 rifle with both 5.56 NATO and 223 REM options, and YES, you can shoot 223 out of a 5.56 barrel.
Note: The specific barrel that is best for your AR-15 rifle will depend on various factors, including the intended use of the rifle, the type of ammunition you plan to use, and your personal preferences. It is essential to consider all of these factors when selecting a barrel and to consult with a qualified firearms professional if you are unsure of which barrel is right for you.
Option 2: Modify AR-15 Barrels With a Pinned & Welded Muzzle Device 
What about people who own braced pistols with barrels close [within an inch or two] to the legally-required 16-inch threshold? For those shooters, pinning and welding a muzzle device is an easier, faster solution – but it comes with some caveats.
First off, permanently attaching a muzzle device to a given firearm to extend its barrel length beyond 16 inches sounds great, but as I said – it's permanent. So you'll want to be absolutely certain it's what you want. Additionally, if a shooter owns a sound suppressor and wants to attach it to their gun, they're going to want to make sure that whatever muzzle device they pick is compatible.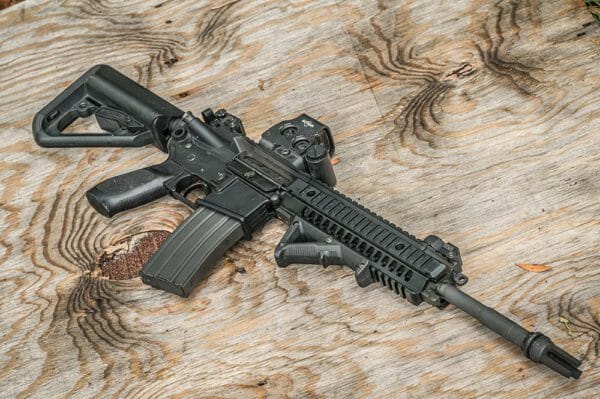 For guns with 14.5-inch barrels, this is pretty easy. Most muzzle devices measure at least two inches – but some, like the SilencerCo ASR Single Port Muzzle Brake, only measure around 1.5 inches, and once installed, only add around one inch to the barrel length. This is great for its intended purpose of keeping a gun light and handy, but for the purpose of extending a barrel in a meaningful way, it's next to worthless.
A better and cheaper option is your standard A2 flash hider which measures 1.75 inches and adds around 1.65 to the barrel. This pushes a 14.5-inch barrel to just a hair over 16 inches, and good to go.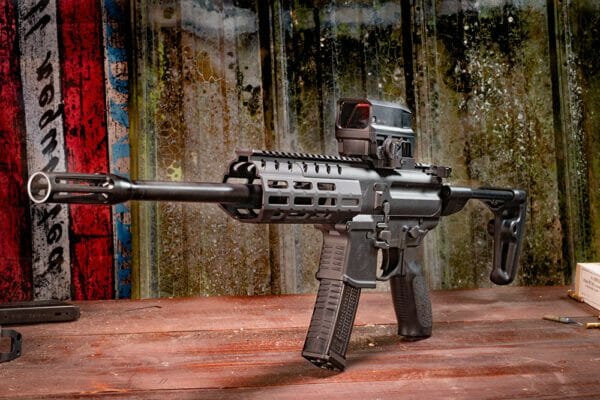 Muzzle Brakes for Permantly Attaching to AR-15 Barrels
For shorter guns, there are purpose-built muzzle devices like the CNC Warrior four-piece linear brake, which mimics those found on Bulgarian AKS-74U carbines and adds a whopping 4.7 inches to the overall length of your barrel. This model, in particular, is more designed for 12-inch barreled AKs like the Arsenal SLR-107CR, but the manufacturer also makes similar muzzle devices for a myriad of different guns.
Regardless of what route you choose, I would advise you to keep the whole ordeal close to your vest; Various alphabet agencies have made it abundantly clear they have no qualms with trampling individuals' rights in their quest to obliterate the Second Amendment. Sure, there are bills in opposition to the ban in the works, but given the speed of government, they will take years, not months (if at all), to affect any change. So don't bet your life and liberty on them.
---
About Jim Grant
Jim is one of the elite editors for AmmoLand.com, who, in addition to his mastery of prose, can wield a camera with expert finesse. He loves anything and everything guns but holds firearms from the Cold War in a special place in his heart.
When he's not reviewing guns or shooting for fun and competition, Jim can be found hiking and hunting with his wife Kimberly, their son, and their dog Peanut in the South Carolina low country.