Colorado – -(AmmoLand.com)- On Saturday, September 28 at 1:00pm Weld County Sheriff Steve Reams and Rally for our Rights founder, Lesley Hollywood will be presenting information about Colorado's controversial new "Red Flag" Extreme Risk Protection Orders ERPO law.
This event will be held at the Longmont Public Library in room A/B. The presentation is free and open to the public and will include a Q & A segment. Seating is available for 90 people, and RSVP is encouraged but not necessary. RSVP can be made on Facebook at this link or by email at RFORCO@gmail.com.
Colorado's "Red Flag" law passed the state legislature in March by one vote, with every Republican and three Democrats voting against it. The legislation is highly controversial, and the law will go into effect January 1, 2020.
This seminar will go over what is in the legislation with a PowerPoint reference to bill language. Attendees will learn how it works, why it's so worrisome for gun owners, what to expect after the law is implemented, and obtain resources. This will be followed by a Q&A and discussion. Handouts will be provided. Complimentary snacks and drinks will be available.
The event will take place as follows:
Red Flag ERPO Community Informational Seminar w/ Q&A Saturday, Sept 28, 1pm – 3pm Longmont Public Library – Room A/B 409 4th Ave Longmont, CO 80501 RSVP on Facebook: www.facebook.com/events/748158645638007
More information about Rally for our Rights and the event can be found here: www.rallyforourrights.com/events/
---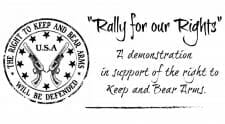 About Rally for our Rights
Rally for our Rights is a non-partisan gun rights advocacy organization that was founded in early 2018. It has quickly become Colorado's most active Second Amendment group with a focus on frontline activism and community outreach.
The post Red Flag ERPO Community Informational Seminar w/ Colorado Sheriff Steve Reams appeared first on AmmoLand.com.