Opinion
Colorado – -(AmmoLand.com)- With opposition from over 40 county sheriffs, dozens of city police chiefs, and the Denver and Aurora Police Unions, this bill still passed. All Republicans and one Democrat voted against it in the Senate. It has already passed the House with all Republicans and two Democrats voting NO. Because it does have Senate amendments, so it will go back to the house to vote on those amendments before making it's way to the governor's desk.
From here, We will be working with law enforcement across the state to put pressure on Governor Polis to either veto the bill, or send it back to the legislature for re-consideration.
This effort will be BIG! If you or someone you know would like to sign on to a letter or be part of this effort, please contact me by replying to this email (rforco@gmail.com) or contacting me here. How privileged are those lawmakers to pass law they will never have to enforce, while those who will have to enforce it are saying NO. I will also be working with the sheriffs to request an injunction that would prevent it from becoming law (if signed, it would officially become law on Jan 1, 2020). Pledge your support for recalls here.
Just like all of you, I'm furious. This piece of legislation is unbelievably bad. Although I will say in this current hyper-partisan body of government, I am proud of how far we have pushed this narrative, that votes were tough to get, and that Democrats crossed party lines in opposition, right down to it passing by a single vote. We are setting brushfires and this vote has only fueled those fires. We're just getting started.
We have a big event in the works that we've been waiting to announce based on this vote. Details coming soon on that.
CONTACT GOVERNOR JARED POLIS AND ASK HIM TO VETO HB19-1177!
Phone: 303-866-2471
Online Contact: www.colorado.gov/governor/share-your-comments
Facebook: www.facebook.com/PolisForColorado
You can stay informed about other legislative happenings as well as alerts by connecting with us on social media and subscribing to our email list.
---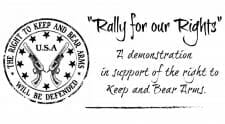 About Rally for our Rights
Rally for our Rights is a non-partisan grassroots organization dedicated to defending and preserving the gun rights of all Amercians through frontline activism, tenacious political action, and community outreach.