U.S.A. –-(Ammoland.com)- When looking for low dollar upgrades for your AR-15, there are a million options out there, but not many of them offer the bang for your buck that the Radian Talon ambidextrous safety does. Let's face it, the factory selector that is factory fitted on most rifles is a less than optimal solution, one of the first things I address is that shortcoming.
My selector switch was made prior to Radian changing their company name from AXTS, but the design is still the same as it was prior to the company rebranding. They package everything in plastic bags to make the install easily as well as allowing Radian the ability to offer several variations without a huge stockpile of parts.
One of the biggest benefits of the Radian Talon selector is the ability to choose between a 45-degree selector throw or a 90-degree throw. I chose to go with a 45-degree throw on all of the rifles I have the Talon installed on to keep the right side selector switch clear of my trigger finger.
Once the selector "barrel" is installed with the supplied detent and spring, the next step is to install the switches themselves. Since I am a right-handed shooter, I chose to install the longer switch on the left side of the rifle and the shorter one on the right to keep it as clear of my trigger as possible. Radian uses a dovetail to keep the selector switch secured to the barrel and a spring-loaded detent keeps the switch from sliding off.
NOTE: Be very careful when compressing the detent and spring, they can launch themselves just as far as a detent spring.
I mentioned that I installed the longer lever on the left side of the rifle since I am a right-handed shooter, the shorter lever was installed on the right-hand side allowing more clearance for my trigger finger. While I prefer to have an ambi-safety on my rifles, I detest the older style safety that places a full-size selector lever under my trigger finger.
You do get a sense of exactly how short the selector switch throw is when configured for a 45-degree throw, just about half of what a standard lever requires.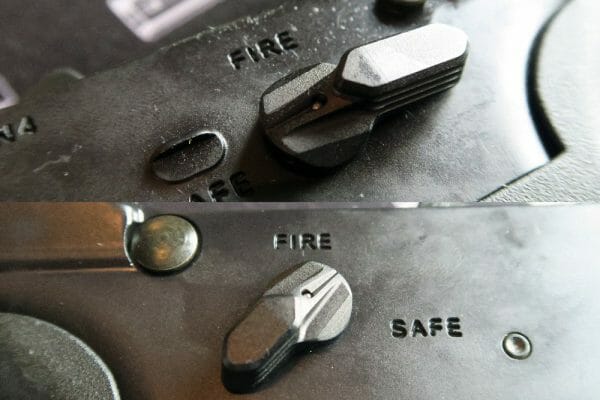 I have installed the Radian Talon on four of my AR-15s now because of how much I like the Talon switch. After about two years of use on my own rifles as well as a rifle for testing now and again, I have to say that I don't see myself using any other selector going forward. The clicks are positive with just the right amount of resistance and the switches themselves land in just the right spot for rapid disengagement as well as easy reengagement.
I can't report anything but positives after extensive use and sometimes abuse. Where lesser selectors might have failed as the result of subpar methods of attaching the levers to the "barrel" of the selector, the Radian Talon soldiers on.
If it wasn't readily apparent, I love the Radian Talon selector and as I stated in the beginning, feel that it is probably one of the best sub $100 upgrades that you can do to an AR-15. Providing a shorter throw, a simple install, and positive engagement with a crisp feel, there aren't many other selectors that can hold a candle to the Talon.
If you are interested in picking up a Radian Talon safety for yourself try shopping at your favorite retailer. MSRP for the Talon safety as tested is $49.95 and seem to range from just below MSRP to well above at online retailers for some reason. Radian also offers an option that includes four levers of varying size for a bit more money with an MSRP of $69.95 that allows you to tailor your rifle to your preferences.
Check out Radian's website to learn more about what colors they offer as well as the rest of their product lineup.
---
About Patrick R.
Patrick is a firearms enthusiast that values the quest for not only the best possible gear setup, but also pragmatic ways to improve his shooting skills across a wide range of disciplines. He values truthful, honest information above all else and had committed to cutting through marketing fluff to deliver the truth. You can find the rest of his work on FirearmRack.com as well as on the YouTube channel Firearm Rack or Instagram at @thepatrickroberts.