U.S.A. –-(Ammoland.com)- Cincinnati police accompanied by Butler County Sheriff's Office B.U.R.N. Task Force (Butler Undercover Regional Narcotics) arrested Alexey Gibson, 30, a Ukrainian citizen on February 1st on drug trafficking charges, carrying a concealed weapon and improperly transporting firearms in a vehicle. Police have accused Gibson of running a drug ring in Ohio.
The B.U.R.N. Task Force is a multi-agency drug enforcement task force. The Butler County Sheriff's Office hosts it although it consists of seven distinct law enforcement agencies from throughout the region in Ohio. Its goal is to share information and resources across agencies more effectively. Its main concentration is the flow of heroin, fentanyl, and cocaine. The B.U.R.N. Task Force started in 2009 works closely with the Ohio Task Force Commander's Association (OTFCA).
Gibson, who is in the country legally from Ukraine, was found with 100 grams of cocaine, five pounds of marijuana, and $30,000 in cash. Law enforcement also found digital scales used to weigh drugs for reselling and other drug paraphernalia suggesting a large drug trafficking operation was operating in Ohio. Police executed the search warrants on Gibson's house and car after a two-year investigation into Gibson's alleged drug dealing.
Gibson was also found to be in possession of 116 firearms. These guns range from revolvers, pistols, shotguns, and rifles. Police found ten loaded guns in Gibson's Toyota Camry. Law enforcement found loaded guns hidden throughout Gibson's house. They also found a large cache of ammunition in many different calibers.
Police did not immediately release a list of the firearms that they confiscated from Gibson. Police did display some of the firearms at the press conference Tuesday. From these pictures, we can see that Gibson's collection contained various AKMs and AR15 as well as Springfield XDMs, Ruger LC9s, Ruger LCPs, and 1911s as well as multiple Smith & Wesson pistols, and revolvers. Gibson even had a few single action revolvers like the ones carried in the old west. Some guns appeared to be new still in the box.
The Cincinnati police did reveal that they are now working with federal authorities on the case although they did not name specific agencies. The Bureau Of Alcohol Firearms and Tobacco is the agency that is most likely working the case due to the sheer amount of firearms that police found in the car and the house. It is unknown how Gibson obtained these firearms, or if any of them were reported stolen. It will take time for the ATF to complete the trace on these guns.
"This is just an unprecedented amount of firearms to be taken off the street," said Col. Michael John of the Cincinnati Police on Tuesday during a press conference on the matter.

"You see there is every kind of gun there is here," said Butler County Sheriff Richard Jones at the same press conference. "These are guns that have been taken off the streets."
In addition to the firearms police also found at least one silencer, night vision equipment, and a ballistic vest. It is unclear what Gibson had planned to do with all the guns and equipment. The police were not forthcoming with any theories on what Gibson had planned but did point out last year Butler County saw three polices officers shot.
Cincinnati Police Col. Michael John said that the investigation is still "fluid and by no means over." They will release more information at a later date and time.
Police are currently holding Gibson in jail at the Hamilton County Justice. The judge in the case has set his bond at $65,000.
---
About John Crump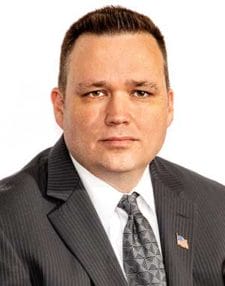 John is a NRA instructor and a constitutional activist. He is the former CEO of Veritas Firearms, LLC and is the co-host of The Patriot News Podcast which can be found at www.blogtalkradio.com/patriotnews. John has written extensively on the patriot movement including 3%'ers, Oath Keepers, and Militias. In addition to the Patriot movement, John has written about firearms, interviewed people of all walks of life, and on the Constitution. John lives in Northern Virginia with his wife and sons and is currently working on a book on the history of the patriot movement and can be followed on Twitter at @crumpyss or at www.crumpy.com.