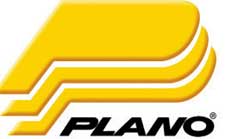 Plano, IL –-(Ammoland.com)- Today's modern compound bows come in just about every size and shape imaginable, often making it as difficult to choose the right bow case to fit your new bow as it was to pick out the perfect bow itself.
Solving the bow case dilemma is Plano, the longtime outdoor gear storage experts introducing the Plano Parallel Limb Bow Case, model 1144. ( http://tinyurl.com/pu5s9j4 )
The new Plano case is rectangular and measures 43" x 17" x 9.5", making it a good shape and size for conveniently storing in a variety of spaces ranging from a bedroom closet to the back of a vehicle. From there, features just continue to get even better.
Since Plano is the industry leader in plastic injection, you know the product is built to last in its USA manufacturing facility. And the case's latches are of the cam-action type that close and secure the lid tightly, with two in the front and one on each side. A proven O-ring seal is located around the full perimeter of the case and resists water and dust entry.
With an interior depth of 7", the case is deep enough to accommodate many bows with quivers and arrows. The bow is held in place by positioning the three nylon tie wraps included to any of a number of locations for securement.
The real flexibility of the model 1144 comes in the ability to position Plano's patented crush-proof PillarLock system supports as needed to fit whatever bow is in the case. The peg-and-hole design of both the interior lid and bottom allows placement of the two movable pillars so that top and bottom pieces of each are seated together to form a rigid support structure upon closing the case. Dense pluck foam accommodates pillar placement.
Two other items also come with the case: a six-arrow holder that attaches to the inside of the lid, and a Plano model 1309 archery utility box that is ideal for carrying nocks, field points, string wax and other accessories inside the bow case.
The new Plano Parallel Limb Bow Case is stylish in its black construction with yellow latches and a yellow comfort-grip carrying handle.
Yes, with the 1144's adjustability, it does mean one case can be fitted to accommodate multiple bows in the same household. But with the case retailing for only around $79.99, it also makes sense to buy one for each for proper storage and transportation of all.
Shop Cabelas for the Plano Parallel Limb Bow Case : http://tinyurl.com/pu5s9j4
PLANO FISHING
A tradition of excellence. Owning a Plano tackle box has become a heritage that has endured for more than half a century. In 1952, Plano introduced the first molded plastic tackle box. For the next fifty years, the Plano brand found its way into the hearts and hands of four generations. Today, there's a 4 in 5 chance that if you own a tackle box, it was made by Plano. There are many reasons why consumers choose Plano, including quality, durability and innovation, but our favorite is "It's what my dad always used."
PLANO HUNTING
Innovation and quality are the traits that have become associated with the Plano® brand. Thousands of hunters and shooters have come to trust Plano for the storage of their firearms, bows and hunting accessories. Since 1952 Plano has been supplying outdoor enthusiast with storage solutions that allow them to make the most of the time they have outdoors. www.planomolding.com
The post Plano's New Parallel Limb Bow Case Adjusts To Any Bow appeared first on AmmoLand.com.