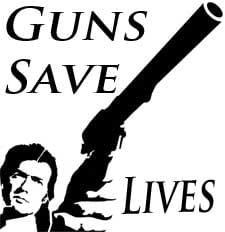 USA –-(Ammoland.com)- Somewhere, everyday in the USA, 2100+ people use a gun for self defense, to stop a crime or save the lives of themselves or their family.
"We believe that the American public deserve to understand that on the average, guns save 2,191 lives and are used to thwart crimes every day," says Alan Gottlieb of the Second Amendment Foundation
Most times you won't see these tales on the news as it does not fit the main stream media's story line of "Guns and Gun Owners are Bad".
This is just one of those stories;
"A pizza deliveryman was getting into his car following a delivery to a motel in West Melbourne, Fla. when a man armed with a knife confronted him and demanded cash. The delivery driver responded by retrieving a gun and firing at the criminal, killing him.

An investigation revealed that the deceased criminal had a criminal record that included aggravated battery, armed robbery, and false imprisonment. Following the incident, Brevard County Sheriff Wayne Ivy noted, "Preliminary evidence in the case demonstrates that the intended victim of the robbery acted in self-defense while being robbed by a violent criminal who was armed with a knife." (Space Coast Daily, Brevard County, Fla. 08/24/13)"
About the Guns Save Lives Series:
Every few days AmmoLand Shooting Sports News will be featuring a new story or video clip involving self defense with a hand gun. Be sure and share, like and Tweet these posts and help spread the truth that "Guns Save Lives". See more at www.AmmoLand.com ( http://tiny.cc/s6ef2w )
The post Pizza Deliveryman Thwarts Attempted Robbery, Brevard County, Florida appeared first on AmmoLand.com.