Pennsylvania's spring gobbler seasons kick off with the Saturday, April 23 youth hunt.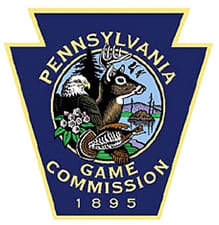 Harrisburg, PA -(AmmoLand.com)- Excitement is starting to build in Pennsylvania's hunting community for the start of spring-gobbler seasons.
Hunters 16 and younger can head afield Saturday, April 23 to participate in Pennsylvania's annual youth spring turkey hunt. A week later, on April 30, all hunters can head into Penn's Woods in pursuit of spring gobblers.
"There's good reason for the increasing interest among hunters," said Mary Jo Casalena, the Pennsylvania Game Commission's wild turkey biologist. "An earlier spring has coaxed hens into nesting sooner and is helping to set the table for hunters to capitalize on those pining gobblers."

"In an early spring, hens often begin incubating their nests one to two weeks earlier than normal," Casalena explained. "That's great news for hunters, because those lonely toms will be gobbling more and coming in easier to calling hunters."
Of course, that doesn't mean those gobblers will be "easy." They won't come running to every caller out there, or be oblivious to the movements of the thousands of hunters invading their woodland sanctuaries.  But their vulnerability to hunters increases when hens nest earlier, because their go-to harem hens become nesters – dropping out of circulation – and the competition among gobblers for the remaining available hens becomes greater.
Last spring, hunters took 41,180 spring turkeys in Pennsylvania, which is similar to 2014's spring harvest of 41,258. But the spring harvests before 2014 were down considerably. In succession, they were: 36,507 in 2013; 36,920 in 2012; and 35,852 in 2011.
What's surprising is that Pennsylvania's last two spring harvests followed two of the hardest winters the state has endured in some time. Sometimes, there isn't an obvious reason for how harvests unfold. But all things considered, it would appear conditions heading into the 2016 spring seasons should provide turkey hunters ample opportunity.
"On average," Casalena said, "71 percent of the spring harvest is adult gobblers; 17 percent is jakes; 4 percent is bearded hens and 7 percent is unknown-aged males. The 2015 spring harvest followed that breakdown, excepting that 22 percent was jakes and only 1 percent of the harvest was bearded hens."

"Hunters in 2015 established the lowest rate for bearded-hen harvests since the agency began recording it in 2003," Casalena said. "That's a good thing, because it means more of these hens survived to reproduce. Although bearded hens are legal for harvest, we suggest hunters refrain from knowingly harvesting them, because they can, and do, nest and raise broods."
Pennsylvania's record wild turkey population occurred in 2001, with an estimate of 288,000 birds. Over the next 14 years, estimates have fluctuated, but chart a declining population overall. The five-year average from 2010 to 2015 was 208,312. Over the past two years, estimates show an uptick and place our turkey population at 234,500.
Last fall's preliminary fall turkey harvest was 19,400; a final harvest will be developed from annual Game-Take Survey results later this summer. The preliminary harvest compares with 18,292 in 2014 and 16,755 in 2013. If the 2015 estimate holds, it'll represent the largest fall harvest since 2009.
Given the recent growth in both the turkey population and harvests – and a mild winter – the quarter-million or so turkey hunters heading afield this spring should find action, if they scout before and during season to pattern birds, and are patient enough to wait for opportunity to strut their way.
Casalena said she often gets questions about turkey mortality, especially when turkeys in a given area don't seem to be gobbling much.
The amount of gobbling depends largely on the age structure of the local population, she said. Two-year-old gobblers are typically the most vocal. If there's a high proportion of younger males, known commonly as "jakes," they might not call much. The same is true of the more seasoned gobblers (3 years old and above).
"Just because you're not hearing much gobbling doesn't mean they're not there, and hunters anywhere might be pleasantly surprised by the outcome of a hunt, even if there's not a lot of calling activity leading up to it," Casalena said. "Prior to the season, gobblers might be quiet because hens are still with them. Once the hens go off to incubate their eggs, gobblers intensify their calling to attract other hens. We time the season to begin, on average, when the majority of hens are incubating and gobbling intensifies."
Hunter success typically could be higher, too, given that it is influenced by the fact many hunters choose to pass up chances to take smaller jakes for the opportunity to take larger, mature gobblers, Casalena said. This self-restriction actually benefits hunters the following spring because this year's jakes, which have high natural survival, will be the boisterous adult gobblers next spring!
Youth Hunt
All participants in the youth hunt must be accompanied by adults as required by law. A complete list of regulations applying to mentored youth and junior hunters can be found in the Pennsylvania Hunting & Trapping Digest, which is issued at the time hunting licenses are purchased and is also available online at www.pgc.pa.gov.
Hunting Hours
Hunting hours during the youth hunt end at noon. Junior hunters and mentored youth may also participate in the statewide spring gobbler season.
Hunting hours begin one-half hour before sunrise and end at noon for the first two weeks of the statewide season (April 30 through May 14). Hunters are asked to be out of the woods by 1 p.m. when hunting hours end at noon. This is to minimize disturbance of nesting hens.
From May 16 through May 31, hunting hours are from one-half hour before sunrise until one-half hour after sunset. The all-day season allows more opportunity at the point in the season when hunting pressure is lower and nesting hens are less likely to abandon nests.
Licensing and other regulations
During the spring gobbler season, hunters may use manually operated or semi-automatic shotguns limited to a three-shell capacity in the chamber and magazine combined. Muzzleloading shotguns, crossbows and long, recurve and compound bows also are permitted. For a complete list of regulations, consult Page 42 of the Pennsylvania Hunting & Trapping Digest.
There is no requirement for hunters to wear fluorescent orange during the spring turkey season, though it is recommended that orange be worn while moving.
Pennsylvania hunters again this year are able to purchase a license to harvest a second gobbler in the spring season, but only one gobbler may be taken per day. This license must be purchased no later than April 29 – before the statewide season begins.
The $21.70 license ($41.70 for nonresidents) may be purchased online, but cannot be printed at home. Therefore if a hunter expects to need the license early in the season, purchasing it directly from an issuing agent might be better. General hunting licenses purchased online also are sent by mail.
Reporting harvests
Successful turkey hunters must immediately and properly tag the bird while afield, and are required by law to report the harvest to the Game Commission.
For most hunters, harvests must be reported within 10 days. Mentored youth hunters must report harvests within five days.
Reporting harvests enables the Game Commission to more accurately estimate harvest and population totals, and is important to effective management.
There are three ways harvests can be reported. Hunters can visit www.pgc.pa.gov, click the blue "Report a Harvest" button along the right side of the home page, then fill out a form and submit. Alternately, hunters can fill out and mail in the tear-out harvest report cards that are inserted into the Pennsylvania Hunting & Trapping Digest, or report the harvest by phone at 1-855-PAHUNT1 (1-855-724-8681).
In all cases, it is helpful to have your license with you, as well as the tag you used in the field after harvesting the bird.
"Even though the Game Commission is not currently conducting any large-scale turkey research, there are still leg-banded turkeys remaining throughout the state from recently completed projects," Casalena said. "If you are lucky enough to harvest a leg-banded turkey please call the toll-free number on the band and we will provide details of when and where the bird was tagged."
About Pennsylvania Game Commission:
For more than 100 years, the Game Commission has managed the Commonwealth's wildlife resources for all Pennsylvanians. With the help of more than 700 full-time employees and thousands of part-timers and volunteers, the agency provides a host of benefits to wildlife, state residents and visitors.
For more information, visit: www.pgc.state.pa.us.
The post Pennsylvania's Spring Gobbler Season Holds Plenty of Potential appeared first on AmmoLand.com.