Otis Technology Partners With Gerber on M16 Rifle Cleaning Tool
And launches new M4/M16 Cleaning System with eFECT Weapons Tool (MFG-556-eFECT)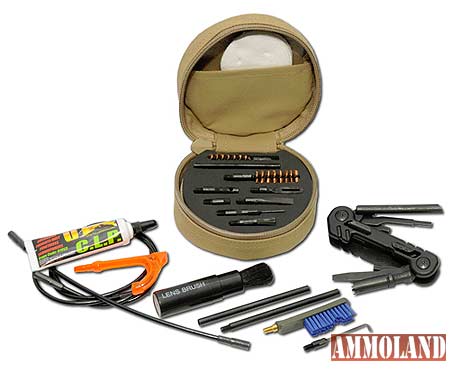 Lyons Falls, NY –-(Ammoland.com)- Otis Technology, manufacturer of advanced gun cleaning systems and accessories, joins forces with Gerber Legendary Blades to create the new M4/M16 Cleaning System with eFECT (Field Expedient Cleaning Tool).
This new cleaning system provides the necessary tools to completely break down and clean the most critical parts of an M4/M16.
Included in the cleaning system are Otis Memory-Flex cleaning rods, slotted tips, 100% cotton cleaning patches, bore brushes, and CLP which allow for quick cleaning of the receiver, neck and bore. The Gerber eFECT Weapons Tool is included and was developed for the distinct purpose of cleaning and maintaining an AR15/M16/M4 variant. It incorporates components that make field cleaning faster and more precise and is compatible and interchangeable with Otis cleaning components.
Brent Bateman, Vice President of Government/Military Sales for Gerber states: "Gerber is excited to partner with Otis on their new MFG-556-eFECT weapons cleaning kit. From the moment the Gerber eFECT Weapons Tool was released, the response from the field has been overwhelming.

Our military customers have continued to ask us to place this multifunctional tool into a kit that combines both the Gerber eFECT Weapons Tool with an Otis cleaning system. The two items are well suited and complement each other. This kit will allow the user to conduct a multitude of tasks, from sight and optic adjustment, to detailed weapons cleaning, further enhancing their capabilities. It is great for Gerber and Otis to be able to listen to our customers' needs and bring them the gear they need in the field."

Brad McIntyre, Military/Federal Manager for Otis Technology adds, "Listening to the warfighter has resulted in Otis looking into an alternative weapons cleaning system. The tool kit needed would allow the warfighter to clean and properly maintain all aspects of the weapon system. As a result, Otis teamed with Gerber to create the M4/M16 Cleaning System with eFECT Weapons Tool. This system will further allow users to sustain their weapons in the field, increasing the weapons life cycle."
Otis Technology is known for manufacturing the most advanced gun cleaning systems available. The superior Breech-to-Muzzle design combined with unmatched quality has positioned Otis as the gun care system of choice with the US Military. Visit: www.otisgun.com
The post Otis Technology Partners With Gerber on M16 Rifle Cleaning Tool appeared first on AmmoLand.com.