News from DRTV powered by Outdoor Channel
CAR JACKING ON BEST DEFENSE
Car jacking is one of the most dangerous crimes committed these days. Unlike most criminals, a carjacker wants to interact with you – making this type of crime especially life threatening. We'll take you through the basic steps of awareness and prevention you can take to form a defense against car jacking, and what is the best action to be taken if you find yourself a victim of this crime.
LEARN MORE….
BEST DEFENSE SWEEPSTAKES!


In February, Best Defense & Stay Safe Media are giving away a three-DVD package to 5 lucky viewers of Best Defense on the Outdoor Channel.
This package features some of Michael Janich's most popular training materials and provides detailed instruction in many of the tactics shown in season 1 of The Best Defense. (ENTER HERE)
Main topic on Down Range Radio tries to give an answer to the question: How much ammo should we all try to keep in stock at all times? Michael Bane also talks about what's ahead for Shooting Gallery, Best Defense DRTV.
(LISTEN HERE)



Silencers Shoot on Shooting Gallery
Quiet! How cool is a shooting competition where you don't need hearing protection. Suppressors have been wrongfully demonized and that's never qute so clear as at our exclusive coverage of the annual Suppressor Shoot in Georgia, where everything from .22s to .50BMGs on an the line, and there's not a pair of earplug to be found! LEARN MORE…
MEET THE POSSE ON COWBOYS!
We have another old time favorite on Cowboys. Today's cowboy action shooters come from all walks of life. We get to know the members of one posse as they compete at the Trail Town Round up. First aired on July 12, 2005. Tonight at 7:00PM on Outdoor Channel.
THIS CAN BE YOURS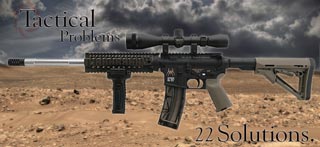 In March, we will pick the winner of this Ultimate AR-15/.22
Learn more and enter here!
About:
DOWN RANGE Television (DRTV) has quickly become the gold standard for Internet firearms sites. Founded in February 2007 by television personality and journalist Michael Bane and his partner Marshal Halloway founder of the first Internet firearms social community — CAS City — in 1995, DRTV offers original short-form video, original articles, moderated forums, gun giveaways, links to blogs and original weekly audio podcasts.
The post News from DRTV powered by Outdoor Channel appeared first on AmmoLand.com.