NEW Series Of RAP4 MOLLE Pouches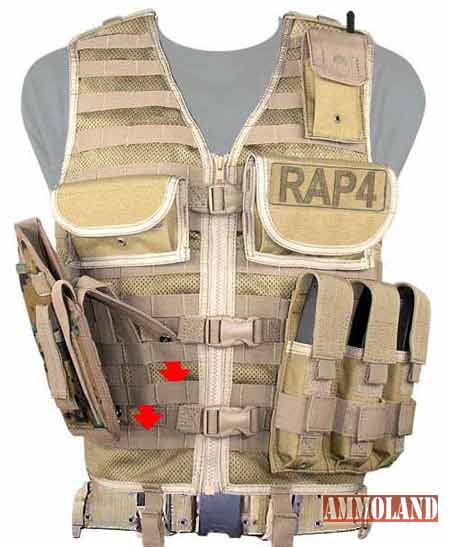 San Jose, CA –-(Ammoland.com)- Real Action Paintball is proud to be your finest source for MOLLE vest pouches, magazine holders, and accessories.
With our ballistic nylon construction, mil-spec designs, and 21 available patterns – including all US military patterns and many foreign patterns – we have exactly the pouch you want in exactly the design you need.
Our MOLLE Magazine Pouches are available for rifle and pistol magazines, with specific models tailored for exactly the gear you carry. Check out the double MP5 magazine pouch for the RAP5 Gen 2 marker and airsoft MP5s, so you can carry spare ammo right where you need it. Three-magazine pouches are available, too, and you can have them made – just for you – in any of our 21 available patterns…for no extra charge.
For players using the mag-fed T68 markers, check out the M4/M16 magazine pouches that let you carry two magazines – or three – anywhere on your MOLLE vest. There are magazine pouches for Tiberius pistol magazines, and Tippmann TPX magazines…airsoft pistol magazines, and the RAP226 and other Real Action Paintball pistols. We have MOLLE pouches for all of your mags…and MOLLE holsters for those pistols, too!
But there's more to the versatility of MOLLE vests than magazine pouches – top scenario players wear them so they can carry radios, maps, ID, spare paintball pods, and other gear.
When you're in the backfield, you need to radio your opponents' moves to your commander…which means that you need a radio, and need it accessible while you do more important things (like shooting and moving). Real Action Paintball has your answer: the MOLLE Radio/Walkie Talkie Pouch. Also useful for storing magazines in a pinch, or other large rectangular objects, this pouch can put your radio right up near your ear…or out of the way lower on your chest.
From map and ID pouches, to general storage pockets for cable squeegees and field repair kits, RAP4 has a MOLLE pouch for every paintball, airsoft, and tactical need. Go ahead and challenge us – search www.rap4.com for "MOLLE" and whatever it is you're looking for, and an answer will certainly come up…and will be available in those 21 patterns, too.
Real Action Paintball – As Real as it Gets!
About:
RAP4 is recognized as a leader in compressed air-powered marking technology, with patented innovations for military and law enforcement tools and industry-leading paintball sport equipment. Headquartered in San Jose, California, RAP4 has distributors across America and around the world. Trained staff members are available by phone or in person for consultations, and to troubleshoot or train your personnel on use of their equipment. visit www.rap4lesslethal.com
The post NEW Series Of RAP4 MOLLE Pouches appeared first on AmmoLand.com.