Positions provide guidance for voluntary conservation program enrollment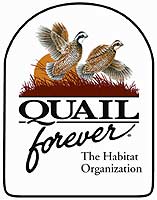 Columbia, MO -(AmmoLand.com)- Quail Forever has appointed Lora Brewer and Len Gilmore as the organization's newest team members in the state of Missouri.
Brewer will serve as a Farm Bill wildlife biologist in Scott and Stoddard counties, responsible for providing technical assistance to farmers and ranchers interested in voluntary conservation programs. Gilmore serves Quail Forever as the coordinating grazing lands biologist for west-central Missouri, working with landowners and producers in the region to establish grazing systems on private lands that are conducive for both livestock and wildlife.
"We are excited to continue to strengthen Missouri's conservation support for private landowners through these cooperative positions," stated Elsa Gallagher, Quail Forever's statewide quail coordinator in Missouri. "It is our privilege to help Missouri landowners meet their land use objectives while providing additional habitat for quail and other wildlife. With over 93 percent of Missouri's landscape in private ownership, it makes good sense to focus quail restoration efforts on private lands while maintaining sound, public lands habitat."
As the state with the most Quail Forever members, Missouri represents a stronghold for Quail Forever supporters nationwide. Since the first chapter was formed in 2005, Missouri's 23 Quail Forever chapters and three Pheasants Forever chapters have contributed 1.25 million dollars for wildlife habitat conservation efforts. These dollars equate to over 6,000 projects impacting nearly 48,000 acres for wildlife habitat improvements in the state.
Lora Brewer – Working for Quail Forever as a Farm Bill wildlife biologist in Scott and Stoddard counties, Brewer is a specialized consultant in conservation programs and habitat planning who will assist landowners in designing, developing, and funding habitat improvements on private lands. A native of Perryville, Missouri, Brewer graduated from Southeast Missouri State University (SMSU) with a Bachelor of Science degree in Biology. She is currently a graduate student at SMSU and is working towards a Masters of Natural Science degree. In addition to her graduate studies, Brewer has been employed in various positions with the Missouri Department of Conservation since 2012. Brewer started her position with Quail Forever on August 17; for more information about private lands conservation programs in Missouri, contact Lora Brewer at (573) 545-3593 ext.103 or email.
Len Gilmore – Hired by Quail Forever as the coordinating grazing lands biologist for west-central Missouri, Gilmore will provide expertise and technical assistance to ranchers and producers interested in wildlife-friendly grazing practices. A native of Osceola, Missouri, Gilmore has been employed by the Missouri Department of Conservation as a wildlife management biologist and private lands conservationist since 1980. Bringing a wealth of knowledge and expertise to his new position, Gilmore hopes to provide the best management practice advice for native grassland wildlife and producers. Gilmore starts his new position with Quail Forever on

September 14

; for more information about grazing lands conservation practices, contact Len Gilmore at (417) 646-8108 ext. 3 or email.
Funding for these positions is made possible by Quail Forever and Pheasants Forever chapters, the Natural Resources Conservation Service, and the Missouri Department of Conservation.
About Pheasants Forever
Pheasants Forever, including its quail conservation division, Quail Forever, is the nation's largest nonprofit organization dedicated to upland habitat conservation. Pheasants Forever and Quail Forever have more than 140,000 members and 700 local chapters across the United States and Canada. Chapters are empowered to determine how 100 percent of their locally raised conservation funds are spent; the only national conservation organization that operates through this truly grassroots structure. Since creation in 1982, Pheasants Forever has spent $577 million on 489,000 habitat projects benefiting over 12 million acres nationwide.
For more information, visit: www.quailforever.org and www.pheasantsforever.org.
The post New Quail Forever Hires in Missouri to Boost Grasslands, Bobwhite Quail Numbers appeared first on AmmoLand.com.