As a long-time AK-lover, I obsess over anything and all things AK and AK-related – which is partially why the new Mike-102 has me so excited. (I also did a 1,000-round review over here)
Foxtrot Mike Mike-102
The Mike-102 is a 5.56mm/.223 carbine that takes the best features of the AR-15 and incorporates them into a firearm that uses the rock-n-lock 5.56mm AK magazines.
Why?
Because it's cool and they can. Plus, given Foxtrot Mike's use of their compact direct impingement system, shooters have a pseudo-100-series AK with a folding stock that has all the accuracy and light weight of an AR, but the cool factor of an AK.
Speaking of which, the engineers over at Foxtrot Mike weren't content to simply make a folding stock DI gun that takes AK mags, they also incorporated an HK-style forward charger because damn it, why not?
Truth be told, this gun feels like a Frankenstein rifle that incorporates several oddball features from other guns, and you know what – that's awesome!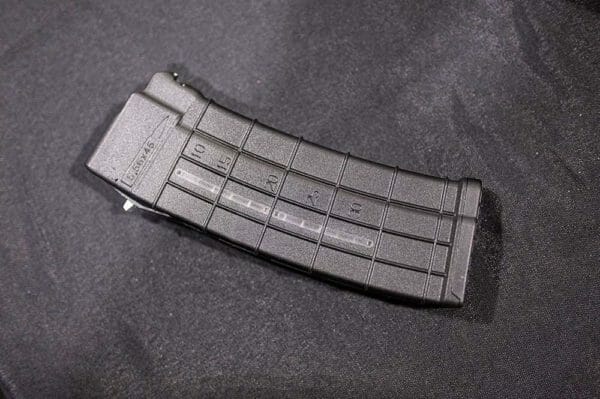 While Foxtrot didn't mention what configurations would be available at launch, they had pistols, carbines, SBRs, and everything in between on display. And the gun's use of a rear Picatinny mount for stocks means that a shooter's imagination and budget are the only limiting factors.
The official launch date for the gun is 1/18/2023, so stay tuned for more information.
---
About Jim Grant
Jim is one of the elite editors for AmmoLand.com, who in addition to his mastery of prose, can wield a camera with expert finesse. He loves anything and everything guns but holds firearms from the Cold War in a special place in his heart.
When he's not reviewing guns or shooting for fun and competition, Jim can be found hiking and hunting with his wife Kimberly, and their dog Peanut in the South Carolina low country.