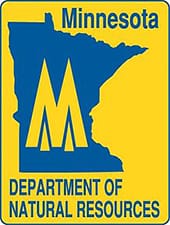 Minnesota -(Ammoland.com)- Paulette Pappenfus, 65, the third-generation owner of Pap's Sports Shop in Little Falls, is the Minnesota Department of Natural Resources' 2014 volunteer firearms safety instructor of the year.
She received the honor at this year's Minnesota Game Fair in Anoka.
To help young people have a safe outdoors experience, Pappenfus has been organizing and teaching DNR firearms safety classes in Little Falls since 1981.
She learned firearms safety and an appreciation of the outdoors from her father. "I went with him before I was old enough to carry a gun, and I learned from him the enjoyment of being outdoors," said Pappenfus.

She was among the earliest female firearms safety instructors in Minnesota. She recalled, "I remember one of the earliest classes had one female, and she was afraid to come into the room until she found out another female would be helping as an instructor." Today, up to 40 percent of her students are females.
She said many of today's youth lack a mentor to introduce them to the outdoors. "Mentors are very important. We've seen youngsters who can score 100 percent on a written test, but have absolutely no idea how to safely handle a firearm because they lack outdoors experience."
Pappenfus' hunter safety work goes beyond classroom instruction to personally mentoring dozens of youth during deer and duck hunting trips on her property.
"I like working with young people, assuring they become safe, responsible hunters. We're not there to teach them to shoot or be gunsmiths, but how to be safe," said Pappenfus.
She said a big challenge today is finding new and young instructors willing to volunteer their time. Pappenfus feels that kids can relate to a younger person better when it comes to firearms safety training.
"Having the sports shop, I get to know a lot of younger people involved in the outdoors," she said. "I just plain ask them to become an instructor, and I ask parents as well. That's probably the most successful approach – particularly if they have younger kids coming up, and you hope they keep doing it after their children complete the training."
Pappenfus said she accepted the award for all DNR volunteer instructors.
The post Minnesota DNR Names 2014 Volunteer Firearms Safety Instructor of the Year appeared first on AmmoLand.com.