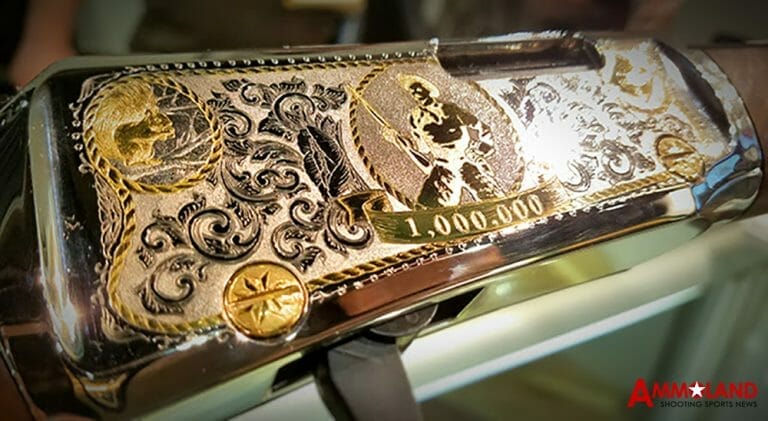 USA – -(Ammoland.com)- In 2017 Henry Repeating Arms manufactured their one-millionth H001 Classic Lever Action .22, which is considered their most affordable lever action rimfire rifle.
Over the past 20 years, this model has become a staple in the firearms industry known amongst shooters for its American walnut stocks, smooth action, affordable price tag, and the fact that it's American-made.
The one-of-one rifle, which features exhibition grade stocks and highly detailed hand engraving became the 2018 SHOT Show Auction rifle. The auction concluded on the final day of the show, and the hammer fell at $55,025.
The winning bid elevates the rifle into record-breaking territory as event history indicates that no other rimfire firearm has ever sold for more. In 1985 the first-ever SHOT Auction firearm was a lever action .22 that sold for $21,250. Serial #1,000,000 also beat out Henry's last entry into the SHOT Show Auction, which happened in 2014 with Serial #1 of the New Original Henry rifle- a reproduction of the first lever action rifle patented by Benjamin Tyler Henry in 1860.
Anthony Imperato, President, and owner of Henry Repeating Arms states, "We're thrilled with the outcome of the auction. The fact that a .22 raised over $50,000 is incredible and we thank our friends at Hunting Heritage Trust for assisting with the auction listing, Gunbroker.com for hosting the auction, and Baron Technologies for the fantastic job they did with the engraving." Imperato continues, "We've now sold over one million H001 rifles which means we must be doing something right!"
About Henry Repeating Arms
Henry Repeating Arms is one of the leading firearms manufacturers in the country and the leading lever action manufacturer. Their company motto is 'Made In America Or Not Made At All,' and their products come with a lifetime guarantee backed by award-winning customer service. The original Henry rifle played a significant role in the frontier days of the American West and is one of the most legendary, respected and sought-after rifles in the history of firearms. The company's manufacturing facilities are in Bayonne, NJ and Rice Lake, WI.