MidwayUSA Signs On as Official Sponsor of the 2011 NRA Show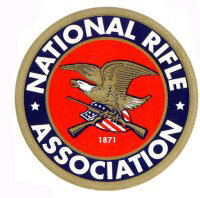 Fairfax, Va. –-(Ammoland.com)- MidwayUSA, the catalog and internet retailer with "JUST ABOUT EVERYTHING for Shooting, Reloading, Gunsmithing and Hunting," has demonstrated its support for the Second Amendment and the National Rifle Association by becoming the Official Sponsor of the NRA Annual Meeting and Exhibits for a second consecutive year.
The 140th edition of the NRA Show will be held April 29 – May 1, 2011, at the David L. Lawrence Convention Center in Pittsburgh, PA.
"When people ask me why MidwayUSA is sponsoring the NRA Show, I tell them it's because we can, and because we should," said Larry Potterfield, founder and CEO of MidwayUSA.

"We can support the NRA because over the years our customers have been very good to us, and we should support the NRA because it's the right thing to do. The NRA protects our rights as Americans and our future as sportsmen. [My wife] Brenda and I, and the rest of MidwayUSA, are excited to do our part to support the 140th NRA Annual Meeting & Exhibits in Pittsburgh."
The 2011 NRA Annual Meeting will cover 320,000 square feet of exhibit space and feature more than 500 of the most spectacular product displays from every major firearm company in the country, as well as knives, wildlife art, shooting accessories, hunting gear and much more. Plus, attendees can book the hunt of a lifetime in NRA's exclusive hunting outfitter section or see priceless collections of firearms in the gun collector area. Attendees can also attend Celebration of American Values spectacular events featuring nationally-known speakers.
In 2010, more than 72,000 people attended the NRA Show in Charlotte, NC. For more information about the full 2011 NRA Annual Meetings and Exhibits schedule of events sponsored by MidwayUSA, call 877-672-7632 or visit www.nraam.org.
About:
Established in 1871, the National Rifle Association is America's oldest civil rights and sportsmen's group. Four million members strong, NRA continues its mission to uphold Second Amendment rights and to advocate enforcement of existing laws against violent offenders to reduce crime. The Association remains the nation's leader in firearm education and training for law-abiding gun owners, law enforcement and the military. Visit: www.nra.org
For more information about MidwayUSA, please visit www.midwayusa.com or call 1-800-243-3220.
The post MidwayUSA Signs On as Official Sponsor of the 2011 NRA Show appeared first on AmmoLand.com.