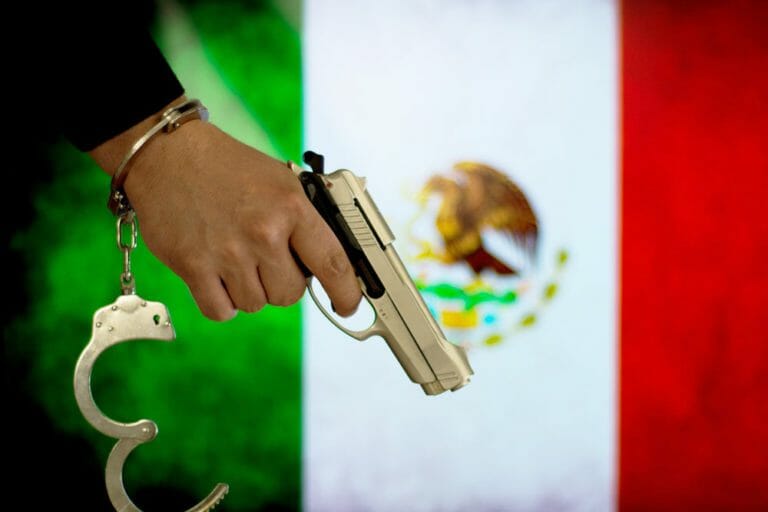 Mexico must believe that its lawsuits against firearm manufacturers and firearm retailers are on legal life support. The country is now turning to the United Nations' Ninth Conference of States Parties (CSP9) to the Arms Trade Treaty (ATT) to spread outrageous and false allegations about the American firearm industry.
Francisca Elizabeth Mendez Escobar, the Permanent Representative of Mexico to the United Nations Office at Geneva, addressed the U.N. ATT conference. That's the U.N.'s effort to control the international arms trade to ensure arms aren't falling into the hands of criminal warlords, terrorist organizations and separatist groups looking to overthrow governments.
U.N. Failure
The track record of this treaty is dismal. Take, for instance, the Taliban, which benefitted by seizing all the small arms left when President Joe Biden ordered the hasty withdrawal of U.S. forces, leaving behind $7 billion in arms equipment, including more than 250,000 automatic rifles, 95 drones and more than a million mortar rounds that require little training to use. That's not to mention the 35 ongoing armed conflicts in Africa, 21 Asian armed conflicts, seven in Europe and six in Latin America. Just last week, the United States intercepted 2,000 Iranian rifles destined for Yemen, which is languishing from an ongoing civil war.
To listen to Mexico, the illicit international arms market is not just the fault of U.S.-based firearm manufacturers. They allege it is the very product of these manufacturers.
False Accusations
"It is very important to make clear there is a link between corporate responsibility [and the illicit arms trade]," said Mexican Ambassador Escobar through an interpreter. "For example, the design of patriotic signs, etc. The lack of monitoring in distribution that lets these weapons be sold to criminals. Also, the lack of control in commercial practice, although some enterprises know their products are used by criminals."
Nothing could be further from the truth. These are the same allegations Mexican authorities presented against firearm manufacturers when it attempted a lawsuit in 2021 with the help of the gun control group Brady United. That lawsuit seeking $10 billion was dismissed after Mexico claimed the narco-terrorism crime plaguing their country was the fault of U.S.-based firearm manufacturers. Five Arizona firearm retailers are requesting a court to dismiss a similar case brought by Mexico that offers no proof these firearm retailers sold firearms to criminals.
Mexico is ignoring the facts. The firearm industry is among the most-highly regulated industries in America. It is strictly regulated by the Bureau of Alcohol, Tobacco, Firearms and Explosives (ATF), and commercial export of sporting arms are strictly controlled by the Commerce Department, with input from the Departments of State and Defense. All foreign military sales are highly regulated by the State Department with input from the Department of Defense.
Firearms are lawfully produced by federally licensed manufacturers and sold at retail by federally licensed dealers only after an individual passes an FBI National Instant Criminal Background Check System (NICS) verification. Only those who are of legal age and obey the law are allowed to purchase firearms. Patriotic advertising doesn't make legal firearm sales suddenly illegal. There is no evidence that U.S.-based manufacturers are illegally supplying firearms to international criminals. These allegations border on slander.
Mexican Corruption
Just days ago, Mexico's former top law enforcement official, Public Security Secretary Genaro García Luna, was convicted on corruption charges in a U.S. court for taking bribes from the Sinaloa cartel. NSSF has pointed out before that Mexico's narco-terrorism crime plague is a problem that Mexico refuses to address at best or is tangled up in corruption at worst. Mexico has just one firearm retailer, which is located on a military base in the heart of Mexico City. It begs the question of how the country is awash in well-armed narco-terrorist militias. An independent investigation showed that the Mexican army "lost" 30 percent of its small arms purchased from the United States. Those are arms only the government can buy, yet are being found at crime scenes.
Mexico's history of corruption with drug cartels is horrendous. Mexican generals and governors have been tried and convicted of corruption charges. Mexico's former president, Enrique Peña Nieto, is under investigation. The current Mexican President Andrés Manuel López Obrador embraced a "hugs, not bullets" policy to tackle cartel violence. That insulting strategy to tackle crime results in mass graves and dismembered victims.
Signature Removed
This also demonstrates the absurdity of the U.N.'s Arms Trade Treaty. The treaty was never intended to take on the sober work of reducing the illicit arms trade. It was an international push to denigrate the sovereignty of the United States to protect Second Amendment rights. That's the treaty that former Secretary of State John Kerry signed in 2013 but was never voted on by the U.S. Senate for ratification. A majority of the Senate has opposed the treaty. The treaty was billed as a control on the international trade in firearms under the guise of protecting human rights. NSSF strongly opposed the treaty as it would have exposed the firearm and ammunition industry to a confusing web of international regulations that would not have contributed to curbing illegal arms trafficking, protecting human rights or guaranteeing the rights of United States citizens.
That's also why President Donald Trump announced in 2019, "We're taking our signature back. The U.N. will soon receive notice that we are rejecting this treaty."
Mexico's allegations that U.S. firearm manufacturers traffic arms to criminals – especially international criminals – are absurd. Their accusations could be dismissed as bluster, except for the consequences of their falsehoods. Mexico is abusing U.S. courts on the international stage to scapegoat their own lack of responsibility for controlling crime on its side of the border. That abdication of responsibility only empowers criminal networks while its citizens suffer.
---
About The National Shooting Sports Foundation
NSSF is the trade association for the firearm industry. Its mission is to promote, protect and preserve hunting and shooting sports. Formed in 1961, NSSF has a membership of thousands of manufacturers, distributors, firearm retailers, shooting ranges, sportsmen's organizations, and publishers nationwide. For more information, visit nssf.org